"Liberation" and "sovereignty" were the buzzwords in Tibet over the weekend as the autonomous region celebrated 50 years of the abolition of slavery amid call to maintain peace and stability.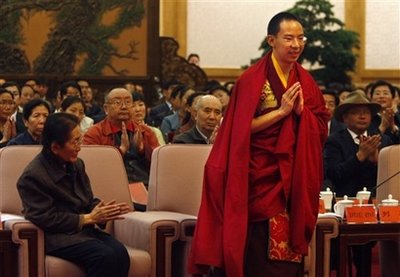 The Panchen Lama greets delegates at a symposium marking the 50th anniversary of the Democratic Reform in Tibet at the Great Hall of the People in Beijing on Friday. [Agencies] 
"The struggle between us and the Dalai clique is not an issue of ethics, religion or human rights," Tibet's Party chief Zhang Qingli told a crowd of 13,000 people in front of the Potala Palace in Lhasa, the region's capital city on Saturday, the first Serfs' Emancipation Day.
"It's about maintaining national sovereignty and territorial integrity," Zhang said. "We must firmly stand guard and severely crack down on any separatist activities."
Full coverage:


 Tibet in 50 years
Related readings:


 Tibet celebrates Serfs Emancipation Day


 Serfs' liberation a 'historic leap'

 Gala celebrates Tibet's 50th anniversary


 Serfs Emancipation Day reminds West of darkness of old Tibet
More than 1 million serfs were freed in Tibet in 1959, eight years into the region's peaceful liberation and shortly after a failed, imperialist planned and sponsored uprising by its feudalistic upper class.
Serfs, who owned no more than 5 percent of the social resources, accounted for about 95 percent of Tibet's 1.14 million population.
The upper class, comprising only 5 percent of the region's population, controlled them through a brutal, theocratic regime.
In January, Tibet's 382 legislators, most with serf backgrounds, unanimously endorsed a bill during the local people's congress' annual session in Lhasa declaring March 28 as Serfs' Emancipation Day.
But in the eyes of the Dalai Lama, Old Tibet's supreme leader who fled to northern India and formed a "government-in-exile" there with the help of the CIA in March 1959, China has brought "hell on Earth" to this "spiritually very advanced" Himalayan region.
The Dalai Lama has also said the March 14 riots in Lhasa last year, which killed 18 civilians - including Tibetans - and led to huge losses of property, was "a peaceful protest".
The riot painted by the Dalai clique as leading to the central government's "crackdown on all Tibetans", resulted in surprising, sometimes violent, anti-China protests in London, Paris and San Francisco as the cities welcomed the Beijing Olympic torch last April.
In later legs of the Olympic Games' overseas torch relay, which visited 21 cities outside the Chinese mainland, overseas Chinese students surprised the world by gathering in large groups along the torch's way to show support and demonstrate against Western media bias and the violence showcased by the Dalai clique.
While Tibet saw its gross domestic product soar from 174 million yuan ($25 million) in 1959 to 39.591 billion yuan last year, some Western media continue to allege that "Tibetans say they have lost religious and cultural freedoms and become marginalized in their homeland".
President Hu Jintao stressed on Friday during a visit to a Tibetan exhibition in Beijing that the "good situation" in Tibet autonomous region today was "hard-earned and should be highly cherished".
He also noted that the region should move from being "basically stable" to "peaceful and stable in the long run."