The 11th Panchen Lama on Friday renewed a vow to commit his whole life to the unification of China and solidarity of all its ethnic groups, in a high-profile seminar in Beijing to celebrate Tibet's first Serfs' Emancipation Day, which falls on Saturday.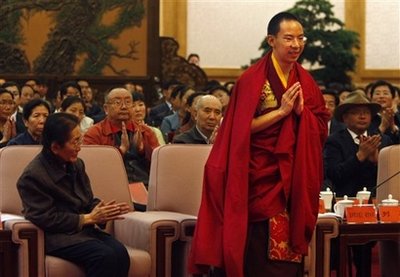 The Panchen Lama greets delegates at a symposium marking the 50th anniversary of the Democratic Reform in Tibet at the Great Hall of the People in Beijing on Friday. [Agencies]
Tibet has witnessed a "historic leap" since the abolition of slavery 50 years ago, the Panchen Lama, born Gyaincain Norbu, told the seminar, held at the Great Hall of the People.
"The serfs' emancipation is wholly in line with Buddhist principles, and the pursuit for selflessness by Communists is also a basic Buddhist virtue," he said, winning a lasting round of applause from an audience that included China's top political advisor Jia Qinglin, Vice-Premier Hui Liangyu, State Councilors Ma Kai and Meng Jianzhu, as well as former Tibet officials and ex-serfs.
Related readings:



 Serfs Emancipation Day reminds West of darkness of old Tibet


 From serfs to masters of their own destiny


 Abolishment of serfdom Tibetan people's own choice


 Dalai Lama and feudal serfdom


 Reform swept away desolate past of serfdom


 Abolishment of serfdom in Tibet a success: white paper

Meanwhile on Friday, a living Buddha from Tibet, Shingtsa Tenzinchodrak, said in Beijing that the attempt to pursue "Tibet's independence" by an extremely small number of people will never succeed because it lacks the Tibetan people's support.
"It (Tibet's independence) is day-dreaming," the 59-year-old said in a news briefing after his return from the United States and Canada where he led a five-member Tibetan delegation of the National People's Congress.
"Since the Democratic Reform in 1959, Tibetan people lead a far better life, thanks to the support from the central and other local governments," he said. "Having such a good life, do you think the people in Tibet will think of independence?"
In response to a question about why there are protests abroad against the rule of the central government in Tibet, Tenzinchodrak said many participants did not know the true picture in Tibet.
Some others, he said, were trying to mislead the Western public by deliberately spreading untrue information in order to malign China.
More than 1 million serfs were freed in Tibet in 1959, eight years into the region's peaceful liberation and shortly after a failed uprising of its feudalistic upper class.