TORONTO: Independence for Tibet can never be accepted, but talks with representatives of the Dalai Lama could resume "at any time" if the political exile gives up his separatist stance, a visiting living Buddha from the autonomous region said over the weekend.
"The door remains open and talks could resume at any time if the Dalai Lama meets the requirements of the central government," said Shingtsa Tenzinchodrak, head of a delegation of five Tibetan National People's Congress (NPC) deputies to North America, while addressing local media and overseas Chinese.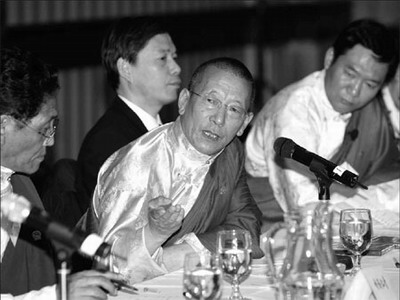 Living Buddha Shingtsa Tenzinchodrak, a deputy to the NPC, speaks at a press conference in Toronto on Saturday. [Xinhua]
Government officials and representatives of the Dalai Lama have met nine times since 2002. The latest round of talks was in Beijing from Oct 31 to Nov 5 last year.
Tenzinchodrak, the 59-year-old living Buddha of the Kagyu sect of Tibetan Buddhism, also said the so-called "middle way" proposed by the Dalai Lama group is "unacceptable and contradictory to the reality in Tibet".
He said although the so-called "middle way" is pleasant to the ears, it is actually aimed at outright Tibetan independence.
Related readings:


 Panchen Lama hails progress in Tibet


 Tibet a far better place thanks to CPC reforms


 Govt invites foreign journalists to visit Tibet


 Tibet part of China: US official


 'Media must be objective about Tibet'
"The core ideas include the withdraw of the People's Liberation Army from Tibet and the removal of other ethnic groups from Tibetan-inhabited areas," Tenzinchodrak said through an interpreter. "How can we talk about sovereignty when such requirements exist?"
He also dismissed reports of there being many demonstrations in Tibet, saying: "What you've heard or read is untrue. Many people in the Western world lack information about Tibet or they're misled by Western media reports.
"That's the reason we're here - to tell the world about a real Tibet with our stories."
Apart from Tenzinchodrak, the NPC delegation also includes two officials from Xigaze and Nagqu prefectures, as well as a doctor and a village head from Lhasa.
Chinese people living in Toronto gave a warm welcome to the delegation.
"It's good timing for the delegation's visit as the 50th anniversary of the democratic reform in Tibet is approaching," said Ping Tan, co-chair of the National Congress of Chinese Canadians. "I hope the world can better understand what has happened and what is happening in Tibet. Also, the ongoing exhibition in Beijing on the 50th anniversary of Tibet's Democratic Reform should be shown around the world."
Hien Lam, secretary-general of the Chinese Canadians for China's Reunification (Greater Toronto), said: "The government could organize Tibetan youth groups to visit countries. They would learn about the outside world and would be good envoys to tell the world what today's Tibet is like."