WASHINGTON: US deputy assistant secretary John Norris yesterday reiterated that Washington "does not support Tibet independence" and that the autonomous region was very much a part of China.
Norris made the remarks during his meeting with a visiting five-member Tibetan delegation from the National People's Congress (NPC), in the US to increase the outside world's understanding of the region.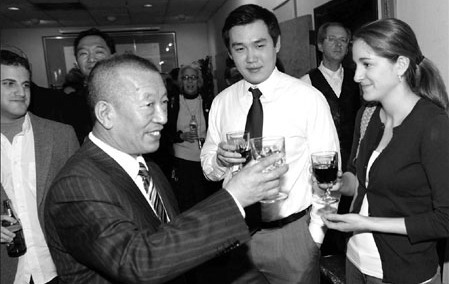 Living Buddha Shingtsa Tenzinchodrak, a deputy to the NPC, makes a toast at a banquet in Washington yesterday. [Xinhua]
Norris, who is responsible for East Asian and Pacific affairs, said the US was concerned about the situation in Tibet, and it was good to communicate with the delegation.
He also expressed concern for the "condition of human rights in Tibet".
Head of the delegation Shingtsa Tenzinchodrak told Norris that the Tibet autonomous region had made great progress not just in social and economic growth, but also in safeguarding human rights over the past few decades.
Related readings:


 Misrepresenting Tibet a disingenuous strategy

 11th Panchen Lama visits exhibition on Tibet in Beijing


 Experts: Dalai Lama's 'Greater Tibet' neither historical fact nor fits in reality


 France reiterates opposition to Tibet independence


 Premier Wen says China's policy on Tibet right

 'Media must be objective about Tibet'


 Tibet our internal affair, US told
He added that people of Tibet also enjoy the freedom to practice religion.
"I've been a monk since I was 4 years old, and I've never heard anyone complain about being banned from believing in any religion," said 59-year-old Tenzinchodrak, who is a living Buddha and a deputy to the NPC.
"Tibet has enjoyed its best period in terms of human rights and religious freedom over the past 50 years."
Just a day earlier in Beijing, another living Buddha, the 11th Panchen Lama Erdeni Gyaincain Norbu had said: "Millions of serfs have gained dignity and freedom that they didn't have 50 years ago.
"Facts speak louder than words. The people have become the kings of Tibet."
While meeting staff from the US Congressional Research Service (CRS) yesterday afternoon, Ngawang, vice-head of the delegation, made similar remarks on human rights issues in Tibet and invited the CRS staff to visit the autonomous region.
"You must visit Tibet to get a true and objective view of the region, for, you are the ones who offer information to the decision makers in the congress," Ngawang said.
Kerry Dumbaugh, a CRS specialist in Asian affairs, said although the two sides may have different views toward certain issues in Tibet, it's good to have such a chance to talk.
Benjamin Wu, president of the US-Asia Institute, a non-governmental organization which is devoted to encouraging dialogue and improving understanding between the people and governments of the US and Asian countries, also said it is "interesting and useful" to hear from Tibetan members of the Chinese NPC about issues that affect their region.
"This is the first Tibetan delegation from the NPC (visiting Washington). The opportunity to meet them personally and having a conversation is useful," he said.
Bill Richard, administrative assistant to Congressman Jim Oberstar, said: "The Western media's perception of Tibet may not be accurate. It's good that the delegation is here to tell us exactly what the situation in Tibet is," he said.
Responding to a remark that a number of people may tend to believe the Dalai Lama more than the NPC deputies, Richard said: "When was the last time the Dalai Lama visited Tibet? Here we have people's representatives from the region to share their views. We should listen and learn."