CHENGDU: Middle-aged taxi-driver Yuan Huafu gets up early every day and waits for his turn at the Dujiangyan long-haul bus station, the booming tourism destination of the past that now resembles a ghost city after the devastating May 12 earthquake.
Full Coverage:
Strong Quake Strikes SW China
Related readings:


 How earthquake offers us a new lease on life

 Qiang people celebrate first Spring Festival after earthquake with full hope


 Feng Xiaogang plans quake movie


 Panda habitat seriously affected in May earthquake

 Qiang ethnic village reconstructed after May 12 earthquake


 The first Wenchuan Earthquake memorial park opened
Yuan's taxi number is 0512, something that works in his favor, as he is able to get more passengers. "I am superstitiously linked with the quake," said Yuan, who is not only a skilled driver but also a guide who can schedule quake journeys, tell stories of the quakes and also arrange meetings with the survivors.
Tourists and journalists are Yuan's main customers, often seeking to explore the epicenter of the quake, some 50 km away, through the high and dense mountain ranges along the torrential Minjiang River, a tributary of Yangtze River.
"This is how I earn my livelihood while my family stays in a temporary settlement," said Yuan. Luckily, every two or three days, Yuan is able to get a passenger and often he earns 600 yuan for a one-day return journey.
Yuan is not the only one who is struggling against all odds to make a livelihood. More than half of the city's taxi divers are earning their daily bread by crisis-crossing the mountains, afraid even to honk for fear that it may dislodge the sand and stones from the mountains.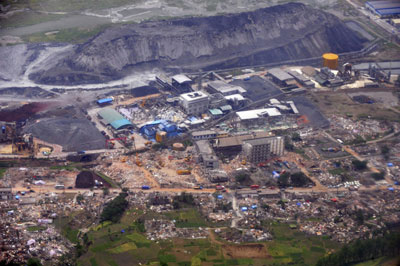 An aerial view of collapsed buildings in an industrial area in earthquake-affected Shifang, Sichuan province May 18, 2008. [Agencies]
"There are not many left in the city who can afford a taxi ride these days," lamented Yuan, who worked as volunteer last May and June. "So we often rely on long-haul trips."
Before the quake, Yuan used to drive along the 1,000-km semi-circular scenic route from the northeast and northwest paths leading to the Jiuzhaigou World Heritage site in Chengdu, capital of Sichuan province. It is a region dotted with varied holiday destinations rich in indigenous culture and local crop specialties as well as idyllic resorts.
The bow-shaped road and its backdrop of picturesque mountains, meandering rivers and fascinating historical relics attract millions of domestic and international tourists annually. It has also been a source of supplementary subsistence for the poverty stricken residents of mountain villages.
At the western side of the bow is Dujiangyan, a famous tourism destination that figures on the world heritage list. Because of its proximity to the quake epicenter, most of the urban residents have since moved to temporary shelters.
"Parts of the city are in darkness even now while night life is virtually non-existent," said Yuan. "Prior to the quake, the city of mountains and rivers beckoned you with a cozy life that was the cynosure of all eyes."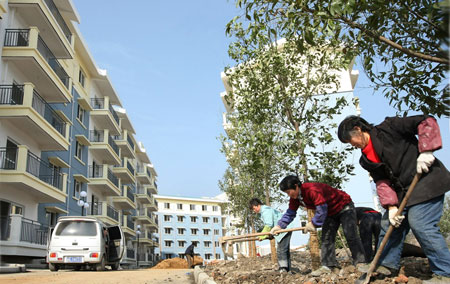 Residents in Dujiangyan planting trees around their dwellings as part of the rebuilding efforts. [Agencies] 
Nine months ago, the dreams crumbled in the Sichuan quake. With aid pouring in from home and across the globe, life and business is slowly returning to normalcy. Most of the broken roads have been widened and flattened, children are moving into new schools, while farmers are rebuilding their homes in many places. But in many other areas the terrible damage is still visible.