ELMENDORF AIR FORCE BASE -- US Secretary of State Hillary Rodham Clinton sets off her visit to Asia Sunday, pledging that the United States would work with Asia on a wider range of global issues, including climate change and the economy.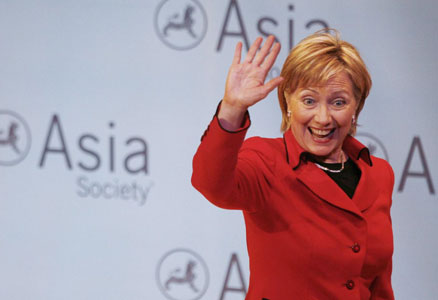 US Secretary of State Hillary Clinton waves to the audience after speaking at the Asia Society in New York February 13, 2009. [Agencies]
On her first mission overseas as President Barack Obama's chief diplomat, Clinton said her choice of destinations was intended to demonstrate a new US commitment to work with Asian leaders.
Related readings:


Hillary Clinton kicks off Asian tour


China, US to restart military dialogue


Clinton announces first overseas trip


Clinton highlights Asia, China


Clinton reaching out to Muslims with Indonesia visit
The administration's goal, she said, is to push climate change and the global financial crisis to or near the top of the priority. The Korean Peninsula's nuclear programs is also on her agenda, Clinton said.
"This region is indispensible to our efforts to seize the opportunities and meet the challenges of the 21st century," Clinton told reporters aboard her plane before a refueling stop in Alaska. Her first Asian stop is in Japan, followed by Indonesia, South Korea and China.
In Tokyo, Clinton will try to reassure the nation of the importance the United States places on ties with Japan and will sign an agreement to move about 8,000 of the 50,000 Marines on the island of Okinawa to the US Pacific territory of Guam.
The Korean Peninsular's nuclear issue is likely to loom large in Clinton's meetings in Japan, South Korea and China. She warned Pyongyang in a speech last week against any "provocative action and unhelpful rhetoric" amid signs it is preparing for a long-range missile launch.
Still, Clinton said the United States is ready to engage with the Democratic People's Republic of Korea (DPRK) -- and sign a formal peace treaty ending the 1950-53 Korean War -- but only after Pyongyang gets rid of its nuclear programs through six-nation negotations.
"When they move forward on presenting a verifiable and complete dismantling and complete denuclearization, we'd have a great openness to working with them," she said Sunday.
In Indonesia, Clinton will stress a new US willingness to engage with Southeast Asian nations, many of which felt neglected by the Bush administration.
She is expected to announce in Jakarta that she will attend the annual meeting of foreign ministers from the Association of Southeast Asian Nations (ASEAN) in Thailand later this year. She is also expected to signal the administration's intention to sign the group's Treaty of Amity and Cooperation, which Bush had declined to do.
On her final stop, in China, Clinton's agenda will be broadest, encompassing the full sweep of the economic crisis, global warming, clean energy, and DPRK nuclear issues.
Analysts believed that pushing foward a closer China ties is at the heart of the top US diplomat's first overseas trip. Clinton and other Obama have made it clear that they want to move dramatically forward in relations with Beijing, finding new avenues for cooperation between the world's biggest economy and the world's fastest-growing economy.
In a speech Friday to the Asia Society in New York, Clinton said, "we believe that the United States and China can benefit from and contribute to each other's successes. It is in our interests to work harder to build on areas of common concern and shared opportunities."
Chinese Foreign Ministry spokeswoman Jiang Yu announced last week that Clinton will discuss Sino-US relations as well as issues of common concern with Chinese leaders during her first China visit since taking office.
"We hope to have broad and in-depth discussions with the US side on Sino-US relations, the financial crisis and other international and regional issues of common concern, so as to strengthen our dialogues, enhance the mutual trust, expand cooperation, and push forward the development of the relationship," Jiang told a regular press conference.