WASHINGTON -- US Secretary of State Hillary Clinton will launch her first overseas tour in mid February by visiting the East Asia's troika and Indonesia, the State Department announced on Thursday.
The first trip abroad since Clinton took office would last one week from February 15 through 22, in the order of Japan, Indonesia, the Republic of Korea and China, said spokesman Robert Wood.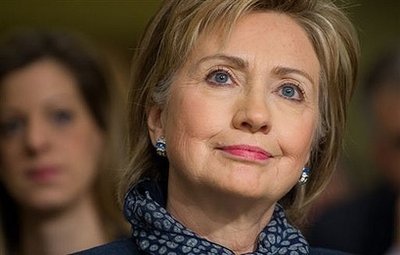 US Secretary of State Hillary Clinton, seen here in Washington, DC, has chosen to visit Japan, Indonesia, the Republic of Korea and China later this month, the State Department announced on Thursday. [Agencies]
"Asia is a very important part of the world. It's growing in size, in influence, prosperity. In terms of the administration's overall approach to travel, the secretary felt that going to Asia would send a tremendous signal to Asia and others in the world of the importance of Asia, particularly, to our foreign policy agenda, " he said.
"In all capitals, the secretary will be discussing common approaches to the challenges facing the international community, including, the financial markets turmoil, humanitarian issues, security, and climate change," said Wood.
Related readings:


 Hillary Clinton likely to visit Japan on February 16: report


 Bucking tradition, Clinton to head for Asia


 Govt 'working closely' on visit by Clinton
According to the spokesman, the Korean Peninsula nuclear issue would be discussed during talks between Clinton and senior officials from the troika, as all the four countries are in the so- called six-party mechanism.
The other two parties are Russia and the Democratic People's Republic of Korea.
"The issue of North Korea will come up in conversations. We all want to see how we can get the North Koreans to abide by their international obligations and to see how, through the six-party framework, we can get them to live up to those obligations," said Wood.
Compared to the troika, Indonesia is viewed by media here as an unexpected stop in Clinton's Asia tour.
"Indonesia's an important country for the United States. I don' t need to tell you that's the largest Muslim country in the world. And the secretary feels it's important that we need to reach out and reach out early to Indonesia," said Wood.
Secretary Clinton will hold consultations with senior Indonesian officials to discuss the close and growing partnership with Indonesia and perspectives on common interests in Southeast Asia, said the spokesman.