Dar es Salaam -- China will not reduce its aid to Africa, President Hu Jintao made the pledge during his talk with Tanzania President Jakaya Kikwete yesterday.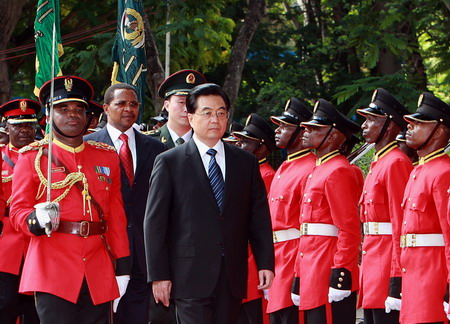 President Hu Jintao (C) and Tanzania President Jakaya Kikwete (3rd from left) review a guard of honour upon the visiting Chinese leader's arrival in the Tanzania's capital
Dar es Salaam
, February 14, 2009. [Xinhua]
As world financial crunch has affected all countries to different degrees, China is willing to enhance communication and coordination with Tanzania and other African countries to best minimize the effect of global economic crisis upon each country, Hu said.
Full Coverage:


Hu Visits Five Nations
Related readings:


 Chinese President kicks off state visit to Tanzania


 Tanzania to benefit from China's reform and opening-up


 Hu's visit enhances economic ties with Tanzania


 Ambassador: Tanzania-China relations 'a friend in need'
Meanwhile, China also calls for reforms to the international financial structure in a all-round, balanced, aggregate and pragmatic manner, Hu said. The third world countries, including African countries, should increase their representation and voices in the reforms.
Echoing Hu's comments on global financial crisis, Kikwete said the global economic downturn has created problems for Tanzania and other African countries.
According to local newspaper The Citizen, the crisis is biting into businesses involving sisal processing and exports.
Tanzania is taking every measure to overcome the difficulties, Kikwete said. And Tanzania is willing to strengthen cooperation so as to face off the crisis together. 
As the first Chinese president to visit Tanzania, President Hu Jintao arrived in Dar es Salaam late Saturday night. The official welcoming ceremony, which was held in the city hall square, featured the elite ceremonial military procession, during which the military band played both Chinese and Tanzania marches.
Hu and Kikwete started their meeting by reviewing the 45 years of friendship that has proceeded smoothly and healthily and withstood dramatic changes in the world.
The relations between China and Tanzania set a model of genuine mutual trust, unity and cooperation for the relations between China and Africa and among the developing countries, Hu said, thanking Tanzania for its successful hosting of the 2008 Beijing Olympics torch relay and above all, its steadfast support for one China.
To strengthen the bilateral ties, Hu proposed to further enhance political exchanges to increase mutual political trust and deepen cooperation in the fields of businesses, trade, culture, education and public health.
To fulfill the commitment China made during the Beijing Summit of China-Africa Cooperation Forum, China will share with Tanzania its experience in building economic development zones and keep up official support for Chinese businesses to invest in Tanzania.
Hu also announced that China would invite young Tanzania students to visit China and offer more Tanzania students fellowships for them to study in China.