SHANGHAI, China -- China overtook the US in monthly vehicle sales in January for the first time, figures from China's auto industry association showed Tuesday, largely because of a plunge in American car sales.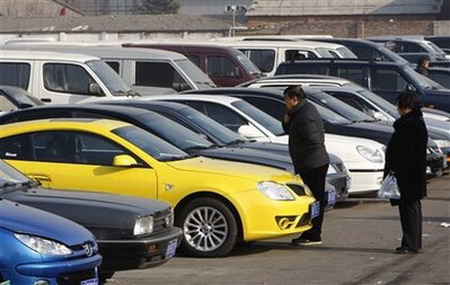 A couple look at cars at an auto sales yard in Beijing Thursday January 15, 2009. China overtook US in vehicle sales for the first time last month, a trend that could make China into the world's biggest auto market. [Agencies]
If China can outpace the United States in sales for all of 2009, it will become the world's largest vehicle market.
Related readings:


 Auto sales 'surpassed US in Jan'


 China auto export slows down as demand falls


 US auto sales hit 27-yr low, topped by China


 Auto suppliers request $20.5 billion in US aid
The China Association of Automobile Manufacturers said Tuesday that 735,000 vehicles were sold in China in January. That surpasses the 656,976 vehicles sold in the US the same month.
China zoomed past Japan to become the world's second-biggest auto market in 2006. With 1.3 billion people, China's climb to the top position is viewed by most in the industry as inevitable.
Plunging US sales appear have accelerated its ascent.
While car sales have slowed in China amid the economic downturn, US sales tumbled 37 percent in January to a 26-year low. In China, vehicle sales fell 14.4 percent from a monthly record 860,000 in January 2008, the Chinese industry group's statistics show.
January sales were 0.8 percent below those in December, and below the 790,000 some analysts had anticipated.
Last week, Mike DiGiovanni, General Motors Corp.'s executive director of global market and industry analysis, projected that Chinese auto sales could hit 10.7 million vehicles in 2009, more than his estimate of 9.8 million unit sales in the US this year. Autodata Corp. forecasts 2009 US sales at 9.57 million.