BERLIN: China and Germany Thursday vowed to have closer economic cooperation and fight trade protectionism to overcome the global financial crisis.
A statement released after Premier Wen Jiabao met with German Chancellor Angela Merkel in Berlin said the two countries would "explore new fields of cooperation and add fresh stimulus to the economies".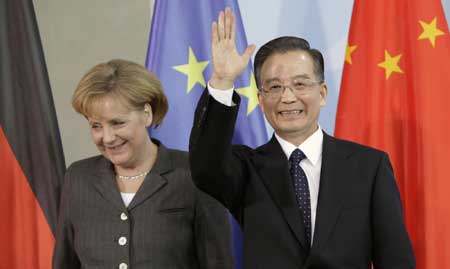 Chinese Premier Wen Jiabao (R) and German Chancellor Angela Merkel pose for media after a news conference in Berlin January 29, 2009. [Agencies]
The areas earmarked for stronger cooperation are energy, the environment, biochemical, infrastructure, transport, logistics, financial services and creative industries.
"We can intensify our cooperation and deal with the (financial) crisis together," Wen said. "We welcome foreign firms to take part in infrastructure and in projects to improve technical standards."
Trade topped the agenda of the two exporting powerhouses, with both vowing to push forward the Doha round of WTO talks.
Wen said China "is not seeking a trade surplus" and is interested in buying German products and technology.
"China and Germany have similar interests because both depend strongly on exports and believe protectionism is not the answer (to the financial crisis)," Merkel said.
The two countries were determined to "maintain trade relations at their current level and, if possible, increase them", she said.
The two countries signed six agreements, including one on the transfer of core parts for China's maglev railway projects.
Related readings:


 Wen: Curbing protectionism holds key to overcoming crisis


 Premier Wen arrives in Germany for official visit


 Premier attends World Economic Forum


 Wen: China acts actively, responsibly during crisis


 Wen: Chinese economy to continue fast, steady growth


 Premier Wen leaves for European tour

The German economy, Europe's biggest, went into recession in last year's third quarter. China's economic growth slowed in the fourth quarter to a seven-year low of 6.8 percent year-on-year.
Germany was the second of Wen's stops on his Jan 27-Feb 2 European tour. Before that he was in Davos, Switzerland, to attend the World Economic Forum (WEF).
The premier will also visit the European Union headquarters in Brussels, and travel to Spain and Britain.
Confidence above all
In his speech at the WEF on Wednesday, Wen said he was optimistic about China's economy growing at a fast and steady pace.
Calling for confidence, cooperation and responsibility in overcoming the financial crisis, Wen said: "China's economy is in good shape on the whole. We managed to maintain steady and relatively fast growth in 2008 despite two massive natural disasters."
The financial crisis is a challenge for the entire world, and the pressing task of the international community is "to take further steps to restore market confidence as soon as possible".
He urged the international community to set up a new global economic system. His proposals include:
Better global economic cooperation and a more intensive and sound multilateral trading regime;
Stronger global cooperation in financial supervision and regulation to guard against the build-up and spread of financial risks;
Protection of developing countries' interests; and
Tackling global challenges, such as climate change, environmental degradation, natural disasters and food security.