Hotel guest Dr Bai was annoyed his breakfast was taking such a long time and was quite pleased to finally see a waiter arrive at his table - but this was no ordinary waiter. About six months ago this man had discovered he was HIV positive and like most people in China was terrified by the "killer disease".
Soon after the diagnosis he tried to kill himself.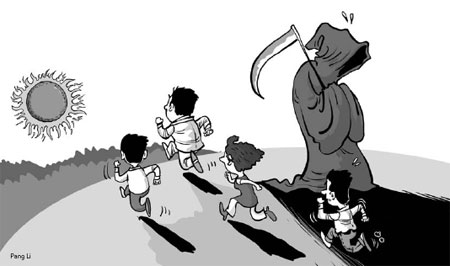 But after psychological counseling and becoming aware of treatment available, he regained his confidence in life. Bai knows the waiter's ordeal better than most doctors. "As an HIV positive myself, I understand how he feels," says the doctor, who declines to reveal his full name.
Bai is a HIV/AIDS treatment expert, and regularly participates medical forums and awareness campaigns.
He says thanks to improved medicine, HIV sufferers today can live normal lives, however stigma and discrimination still cast shadows over their lives.
Related readings:


 President Hu visits AIDS patients on World AIDS Day


 World AIDS Day special: Blood of Yingzhou district trailer


 Public attitudes crucial to AIDS fight


 Chinese premier visits AIDS patients, workers

HIV sufferer Bei Fang has been an active volunteer in a support group and believes the day will come when people living with HIV/AIDS were not afraid to reveal their infection.
"With respect to others, they are willing to remind their dentists and sex partners of necessary protections," he says. "In return, they would receive due respect and understanding, rather than discrimination and desertion."
Bei made the remarks after watching a stage drama, They, produced by students from China Renmin University, based in Beijing.
For the past 10 years, the university has been promoting awareness of HIV/AIDS among its students, especially those who are homosexual.
They tells the story from the perspective of a doctor. With most of her patients showing up in masks and sunglasses, the doctor refers to them by numbers and never by name. After many unsuccessful attempts to save her patients, the doctor falls into great despair.
But then a patient called Li Ming comes along. Li becomes an ardent volunteer reaching out to the high-risk communities, such as unlicensed prostitutes and the gay population, to raise awareness of the disease and promote safe sex to stay away from HIV.