Parts of southwestern China have been hit by their worst floods in more than a century as well as landslides that have cost 51 lives and left 43 missing, local officials and media reports said Wednesday.
Related readings:


Heavy rains, snow kill 40 in Yunnan


Rescue work for mudslide victims


Heavy rain affects 1.17m  in S.China
The landslides and mud-rock flows in Yunnan province followed at least 10 days of rain, the Xinhua news agency reported.
The downpours in neighbouring Guangxi Zhuang Autonomous Region caused the worst floods in its capital Nanning since 1907.
"The latest information we have shows there are 40 dead, 43 missing and 10 injured in Yunnan," a disaster relief official at its provincial civil affairs department told AFP.
"The death toll is 11 in our region, but there are no missing or injured," another official at the disaster relief office in Guangxi said.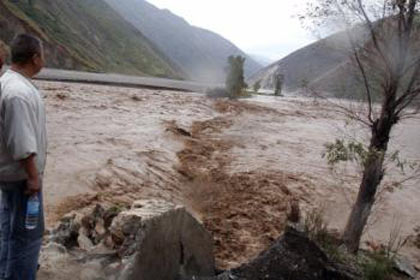 A farmer looks on as rising flood waters overflow onto a road near Kunming. [Agencies]
More than 2.4 million have been affected by the rains in both areas, Xinhua reported.
In Yunnan, the rainfall has hit 13 cities and prefectures in the centre of the province, including the capital Kunming, and sent torrents of mud and rock through villages, affecting 1.3 million people.
In the northwest of the province, meanwhile, heavy storms blanketed major roads with 50 centimetres (20 inches) of snow and traffic cut off.
Over 1.1 million people in Guangxi have been now affected by floods, which have destroyed 87,000 hectares (215,000 acres) of crops and caused 700 million yuan ($100 million) in direct economic losses, Xinhua said.
The floods have also cut off roads in Guangxi, damaging 68 reservoirs and 107 dams, the report said.
Rain has eased in Guangxi but more is forecast in Yunnan.