Severe flooding and snowstorms have claimed 40 lives in the western regions of China, as weather authorities warned residents to brace for more rainfall and snow.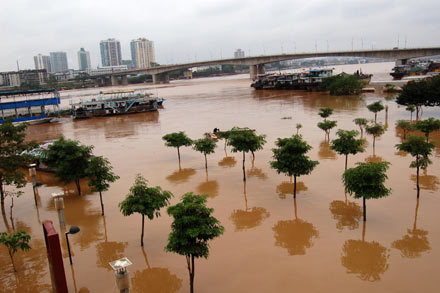 A square beside the Yongjiang River in Nanning, Guangxi Zhuang Autonomous Region, lies underwater, November 4, 2008. The city was hit by its worst flooding since 1907. [China Daily]
Flooding claimed five more lives on Tuesday, increasing the death toll from Monday's 35, and left 43 people missing in Yunnan province, the local civil affairs office announced last night.
More than 60,000 residents were evacuated, its disaster relief department told China Daily.
But suspended railway services between the provincial capital Kunming and tour resort Dali have been restored, railway authorities said.
Since Oct 24, heavy rainfall has hit 13 cities and prefectures in central Yunnan province, including the provincial capital Kunming, and sent torrents of mud and rock through villages home to almost 1.3 million people.
The Chuxiong Yi autonomous prefecture was worst hit with 24 casualties and 41 still missing among houses that collapsed under mud flows.
Rescuers have since restored more than 200 km of damaged roads, the Xinhua News Agency reported.
Also in northwest Yunnan, heavy storms blanketed major roads with 50 cm of snow and cut off traffic in the Diqing region of northwest Yunnan.
Local media reported on Tuesday that a few dozen vehicles were stuck along the roads.
With the National Meteorological Center predicting up to 70 mm of rain in the region in the coming three days, the Yunnan government said the situation remain serious.
Elsewhere, residents of Lhunze county in northeast Tibet autonomous region are preparing for new snowfalls.
After the worst snowstorm in history devastated the area between Oct 26 and 28, the National Meteorological Center Tuesday forecasted scattered snowfall between 5 and 10 mm in the affected region in the next two days.
Seven people have died and 144,400 livestock lost so in wake of the storm, with more farm animals stuck in the worst hit areas, local authorities said.
The storm also knocked out telecommunication facilities.