Facing a housing market lull which could drag China's economy further in the backdrop of a worldwide financial crisis, Beijing is probing possibilities to loosen its macro control to activate the real estate sector.
As many as 18 Chinese cities, including Shanghai,Guangzhou,Hangzhou and Xi'an, have announced detailed policies to boost their property market, which have seen at least four months of consecutive drops in housing prices.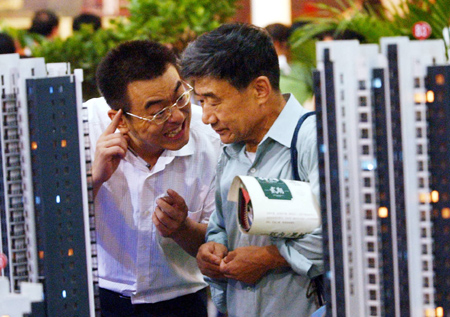 An estate
broker
introduces apartments for sales to a potential home buyer at a housing exhibition in Huangshan City, central China's Anhui Province, October 4, 2008. [Xinhua]
Propelled by the local governments' measures, the central government is believed to be studying market trends. Analysts predict that Beijing is expected to jump on the bandwagon by rectifying its strict regulatory decrees of higher taxation, and removing draconian control on bank lending to anyone buying second homes.
Speaking on the sidelines of a press conference Thursday in Beijing, Du Ying, deputy minister of the National Development and Reform Commission, told reporters that the real estate industry, a major sector of China's fixed-asset investment, that a major drive behind the country's past rapid economic rise is declining, and the government is "closely watching developments".
Some Chinese economists caution that a worsening slump in the real estate market in China would not only undermine the healthy growth of the economy, but also put the country's financial system at risk.
Related readings:


 Property market under microscope


 Home buyers get gov't support in Delta cities


 Property policies 'set to ease'


 Property deals hit record low
The worsening financial crisis, now sweeping the world and hardening the lives of many, originated from the subprime debacle in mid
2007 in
the
United States
. Because of the sudden bust of a 10-year American housing boom, a rocketing number of American homeowners were unable to pay mortgages, and the banks were troubled by mountain-high bad debts.
To prevent the same scenario from happening, the 18 Chinese cities have resorted to measures, including doling out subsidies to private homebuyers, unprecedented since former Prime Minister Zhu Rongji launched privatization policies of housing; cutting taxes on housing deeds, and even giving permanent urban residents permits to lure outside homebuyers, in Hangzhou's case.
Shanghairaised the mortgage ceiling of the housing accumulation fund by one-fifth, into which employees and employers deposit money every month in return for lower mortgage rates, a move expected to encourage city residents to apply for a larger housing loan.
Regulatory Macro Control
Like the United States and Europe,China also witnessed a sizzling real estate sector since 2000, led by Shanghai,Guangzhou, and other relatively developed coastal cities, that benefited from the reform and opening-up policies. Buoyed by increasing incomes, a rising number of well-off urban residents purchased their own homes, in addition to cars and other luxuries, and become China's middle-class.