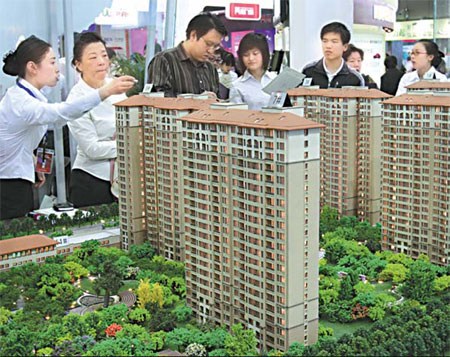 A Beijing real estate exhibition draws visitors. [China Daily]
The central government is expected to relax its policies on real estate before the end of the year to prevent further sharp drops in fixed-asset investment, particularly at a time when concerns over falling exports and slowing GDP growth worsens, analysts have said.
The Ministry of Housing and Urban-Rural Development has submitted a package of loosening initiatives on real estate policies to the State Council and related policy could be released as early as next month, industry sources told China Daily.
"Policy changes will probably stem from initiatives to spur consumer demands, rather than ease credit policies to real estate developers," said Qin Xiaomei, head of research of property consultant CB Richard Ellis' Beijing branch.
Measures to stimulate consumption in the sector are said to include the canceling of restrictions on a second private property, reducing property tax and extending the maturity of individual mortgages.
The country's property market began to cool down since the fourth quarter of last year, with transactions remaining low despite intensive promotions by developers even in September and October, traditionally a peak season for property transactions.
Similarly, a number of local governments have issued policies to revitalize the property market since September.
The fall in real estate investment has also sparked growing worries on slowing growth rates in the economy.
The average annual growth rate of real estate investment in July and August hovered around 19 percent, compared with 34 percent for the second quarter of this year, statistics have shown.
With the financial turmoil on Wall Street quickly spilling over to the European Union (EU), China's exports are expected to be hit hard this year, since the US and EU account for about 40 percent of the country's total exports.
"If China fails to respond to domestic demand effectively, the country may face bigger risks in the economic downturn, given the big drop in exports and fixed-asset investment," said Peng Wensheng, head of China Research at Barclays.
Investment, consumption and exports are thought to be three major pillars driving China's economy growth.