BEIJING  -- Chinese scientists on Sunday successfully directed the accompanying satellite BX-1 to begin circling the Shenzhou-VII spaceship, on an elliptical track of 4 kilometers multiplying 8 kilometers.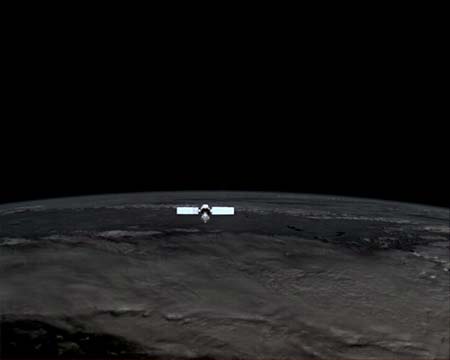 Shenzhou VII spacecraft is seen in this picture taken by the 40-kilogram companion satellite three minutes after it was released by Chinese astronaut. The companion satellite has sent back more than 1,000 pictures of Shenzhou VII spacecraft. [Xinhua]
It is the first time that China has succeeded in maneuvering this kind of space orbiting, official sources say.
Related readings:


 Shenzhou VII's companion satellite sent back clear pictures


 Re-entry module of Shenzhou VII back in Beijing


 Rare herbal plants aboard Shenzhou VII spacecraft studied
The accompanying satellite began orbiting the orbital capsule of the Shenzhou-7 at 18:14 pm, under the close monitoring and precise control of the Beijing Aerospace Control Center.
The BX-1 rode the Shenzhou-VII into the space on September 25 and it was launched by the spacecraft two days later. Since September 30, the control center changed its track six times to draw it closer to the space vehicle step by step, and finally it succeeded in orbiting the capsule.
Over the past days, the monitoring satellite has shot over 1,000 pictures of the spaceship from different angles. All the pictures are clear and complete, said an official with the space program.
The photos were condensed and stored after they were taken by the cameras installed on the satellite. The BX-1 shot its first photo six seconds after being released.
In one of the pictures published by the official, the spacecraft was flying like an eagle with the Earth as its background.