The latest sample test detected no melamine in newly supplied liquid milk on China's market, the country's quality watchdog said Saturday.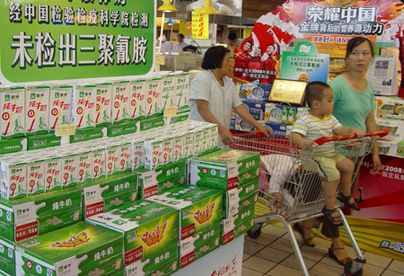 Shoppers walk past milk packages with labels claiming the products are free of melamine, in a supermarket in Haikou, capital of Hainan province October 2,2008. [China Daily] 
Samples of 609 batches of liquid milk from 27 cities across China were found free of melamine, said the General Administration of Quality Supervision, Inspection and Quarantine (AQSIQ).

Related readings:


Milk shake-up continues to jostle


Newly-produced milk 'melamine free'


Govt vows to beef up dairy supervision


Cadbury candy pulled from shops on melamine concerns


China to unify supervision of dairies

Altogether 75 brands were sampled for the test, including top-selling ones such as Yili, Mengniu, Bright Dairy, Sanyuan and Wandashan, according to the AQSIQ.
The test was the sixth in China after the tainted milk powder scandal erupted last month. A total of 2,093 batches of liquid milk under 115 brands, among other dairy products, have been checked since then, said the AQSIQ.

A nationwide inspection of baby milk powder was ordered on September 11 after media reports that products from Sanlu and other Chinese brands contained melamine. Testing has been broadened from baby formula to other types of milk products.
In the previous inspection, on September 30, officials tested 265 batches of adult milk powder produced before September 14 by 154 companies, and the tests found 31 batches from 20 companies were tainted with melamine.