BEIJING  -- Food safety officials here said on Thursday that none of the chemical melamine was found in 418 samples taken from  newly-produced liquid milk of the nation's major brands in the most recent inspection.
The General Administration of Quality Supervision, Inspection and Quarantine (AQSIQ) announcement, posted on its website, concerned the latest tests of 65 domestic brands nationwide, as milk quality testing continued throughout China in the wake of a deadly contamination scandal.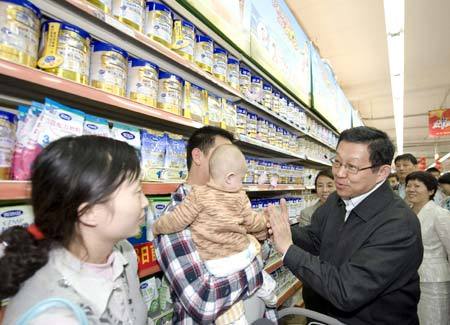 Chinese Minister of Commerce Chen Deming (R) chats with a baby's parents at a supermarket in Beijing, September 26, 2008. [Xinhua] 
No problems were discovered in samples from top-selling brands such as Yili, Sanlu, Mengniu, Sanyuan, Wandashan and Yinqiao, among others, according to the AQSIQ.
Related readings:


 Cadbury candy pulled from shops on melamine concerns


 Police detain 22 for tainting milk with melamine


 No melamine detected in 296 tests in past two weeks


 Nestle milk found to contain melamine in Hong Kong
A nationwide inspection of baby milk powder was ordered on September 11 after media reports that products from Sanlu and other Chinese brands contained melamine.
The AQSIQ conducted tests on milk, yogurt and other dairy products sold under dozens of brands in 22 major cities. Testing has recently been broadened from baby formula to other types of milk powder.
In the previous inspection, on September 30, officials tested 265 batches of adult milk powder produced before September 14 by 154 companies, and the tests found 31 batches from 20 companies were tainted with melamine.
Industry and Commerce offices have been told to post notices in retail outlets that include brands and batch numbers of the tainted milk powder.
Some 13,000 infants nationwide have been hospitalized with kidney problems and at least three have died after drinking baby formula tainted with melamine, a toxic chemical added to raw milk to raise its apparent protein content.