The death toll from typhoon Hagupit in south China rose to 10 as of 8 a.m. on Thursday, with two still missing, the Office of State Flood Control and Drought Relief Headquarters said.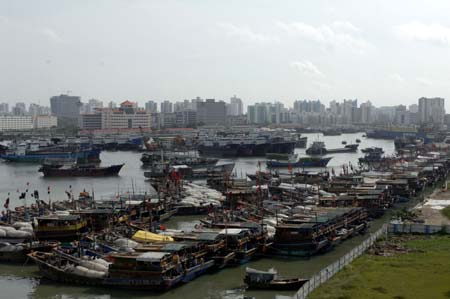 Vessels berth at a harbor in Haikou, capital of south China's island province of Hainan, Sept. 25, 2008. [Xinhua] 
According to the office, Hagupit-triggered floods and high winds had affected 8.73 million residents and 400,000 hectares of crops in southern Guangdong Province and Guangxi Zhuang Autonomous Region.
Related readings:


 Hagupit brings rare floods, hurts 58


 Typhoon Hagupit wreaks havoc in China's south coast


 Typhoon Hagupit lands in south China
The disaster toppled 18,500 houses and caused a direct economic loss of 6.3 billion yuan (US $923.7 million  dollars) there, it said.
In a separate report on Thursday morning, the Ministry of Civil Affairs confirmed that typhoon Hagupit had caused five deaths and two missing in the two provincial-level regions as of 17:00 on Wednesday.
According to the National Meteorological Observatory, Hagupit, the 14th strong typhoon of the year, landed in the city of Maoming of Guangdong at 6:45 on Wednesday morning with winds of more than 172.8 kilometers per hour in its eye and downgraded to a severe tropical storm at 2 p.m..