GUANGZHOU -- Typhoon Hagupit landed in south China's Guangdong Province at 6:45 am on Wednesday, packing hurricane force winds at 172 kilometers per hour in its eye.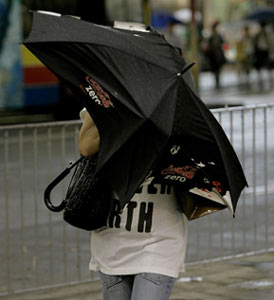 A pedestrian wades through winds and rains on a street of Hong Kong as Typhoon Hagupit hit China's southern coast on Sept. 23, 2008. [Xinhua]
The 14th strong typhoon of the year made landfall in the coastal areas of Chencun Town, Dianbai County in the city of Maoming, the provincial meteorological bureau said.
In high alarm of the typhoon, the province recalled more than 50,000 ships and nearly 200,000 fishermen or crew members on Tuesday.
The coastal city of Yangjiang evacuated 17,324 people and checked reservoirs and dams for potential danger.
In Xuwen County, more than 11,000 people were evacuated and more than 110 reservoirs were scrutinized.
The Shenzhen airport cancelled most domestic flights scheduled after 7 pm on Tuesday, and encouraged passengers to postpone or cancel their trips.
Educational bureau of Haikou, capital city of the island province of Hainan, issued a notice late on Tuesday, ordering all schools and kindergartens to close on Wednesday.
Related readings:


 Typhoon Hagupit could hit land today


 Typhoon Hagupit heads for China, killing 3 in Phil.


 Typhoon Hagupit nears China's southern coast
In the adjacent Guangxi Zhuang Autonomous Region, local governments were keeping close watch for secondary disasters.
Hagupit is the second typhoon in a week to affect Taiwan, Fujian and Guangdong, after typhoon Sinlaku lashed the region last Tuesday.