Beijing is enjoying its cleanest air for 10 years and the blue skies are set to continue long after the Olympics, a top environment official said Tuesday.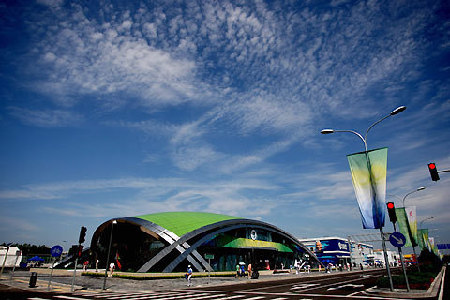 Beijing Olympic park welcomes the athletes and tourists all over the world against a clear blue sky in this August photo. [Xinhua]
On nine of the past 18 days the air was of the very highest quality, while on the others it was rated "fairly good", Du Shaozhong, deputy director of the Beijing environmental protection bureau, told a press conference.
The average daily air pollution index (API) over the 18 days was 56, far below the 81 reported for last year, he said.
Related readings:


Beijing's air quality 'best' in decade


Beijing fulfilling air commitment
August enjoys best air in decade
"This is the best average summer API for a decade," Du said.
In July 2006, Beijing had five days of "excellent" air quality, while last August it reported just two, he said.
The clean air will continue until the end of the Games, as long as the weather remains conducive to dispersing pollutants. But even if it changes slightly, the air quality will remain "fairly good", which is within the standards for the Olympics, he said.
Guo Hu, director of the Beijing meteorological center, said showers are forecast for today and tomorrow, while clouds are expected for Sunday's closing ceremony.
After its Olympic success, Beijing is now committed to making blue skies the norm in the capital, Du said.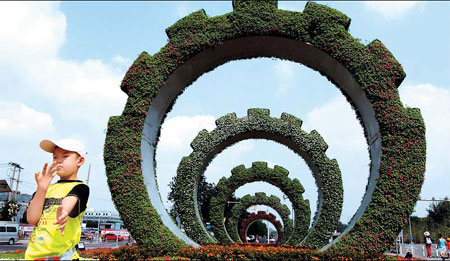 A clear blue sky brightens Beijing yesterday, as a young boy stands in front of a floral display on Tianqiao Street, Beijing. [China Daily]
"Beijing will become a much more livable city," he said.
"New measures will ensure air quality continues to improve after the Games."
Details of the measures will be announced once officials have studied Beijing's "successful experiences", he said.
"But whether they relate to reducing emissions from cars or dust from building sites, the requirements will be stringent," he said.
For Beijingers, the recent clear skies have been quite literally a breath of fresh air.
Zhou Manjun said he loves the fact he can now sleep with his bedroom windows open.
"I never did that in the past, because I didn't want to wake up to a room full of dust," he said.
"But now it's all so clean."