Beijing reported Saturday was the second consecutive day of Grade I, or "excellent", air quality, marking a decade-long high for the number of such days in a summer month in the city.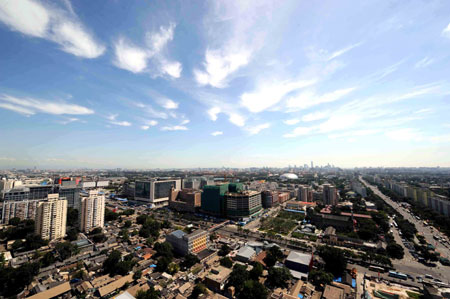 Blue sky is seen above the urban areas of Beijing, August 16, 2008. [Xinhua] 
China Environmental Monitoring Center (CEMC) figures put Beijing's Air Pollution Index (API) at 23 Saturday, the Games' eighth day, and at 17 the day before. Deputy director of the Beijing Municipal Bureau of Environmental Protection Du Shaozhong said that brought the total of Grade I days in the first half of August since 1998 to seven.
In the other eight days, Beijing's air quality was Grade II, which still fell within the International Olympic Committee's standards for the host city.
Related readings:


 Beijing reports excellent air quality for second day


 Hype over city air quality reflects media's amnesia


 BOCOG official forecasts good air quality during Olympics


 IOC official downplays air quality concerns


 Beijing promises air quality during Games
Grade I ranges from 1 to 50. Grade 2, which qualifies as "fairly good", runs from 51 to 100, while Grade III, or "slightly polluted", runs from 101 to 150.
"Beijing often reports more Grade I days in autumn and winter than in summer. But this August, the number of days with excellent air quality is unusually high," Du said.
The next highest number of summertime Grade I days per month was five in 2006. There were only two last August, he said.
Du forecast Beijing's air quality would be mostly Grade I or Grade II during the Olympics and Paralympics.
Beijing-based climatologist Wang Zifang said the capital's air quality would remain excellent until Monday.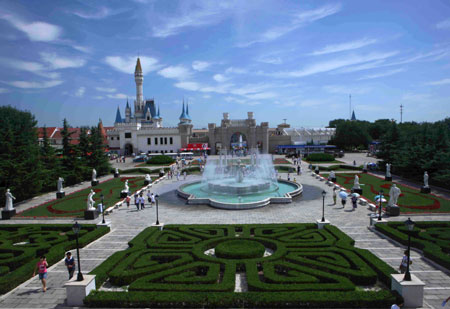 Blue sky is seen above the Beijing World Park, August 16, 2008. [Xinhua] 
"From Tuesday to Thursday, the wind is forecast to change direction and may bring pollutants from cities southeast of Beijing, such as Tianjin and Langfang," Wang said.
The municipal government said it had since 1998 poured more than 140 billion yuan ($20.5 billion) into more than 200 projects to improve air quality.
Xinhua