"She had a tough morning," said her father Huang Jianqin, a bank clerk in Beijing. "We got up at 6:30 a.m. and left home at 7, but didn't get here until after 9. The subway was crowded with Olympic spectators and we had to wait in long queues for the security check."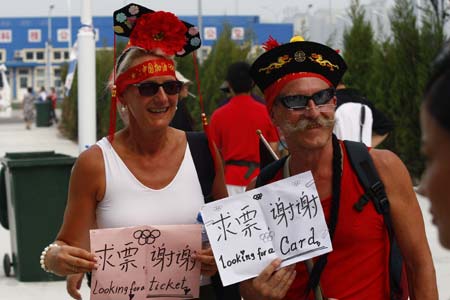 Enthusiastic foreign spectators wearing Chinese styled hat are desperately in search of tickets, shown this undated file photo. [Xinhua]
But Huang considered himself lucky enough to get four tickets to bring his wife, sister and 65-year-old mother along. No ticket is required for children under 120 cm tall. "We made online reservations last summer -- some people ended up with 10 or even 20, while others didn't get anything. It's a pity I didn't get a ticket for the finals."
Related readings:


 Lighting the passion for Olympic Memorabilia


 Olympic passion


 Suzhou alight with Olympic passion


 Passion and support
Wu Mingshan from the northern Shanxi Province is much luckier: he got four tickets for the finals, two for badminton and two for swimming. "I was so excited last night that I kept awake at 3 a.m., and got up again at 6," said Wu. 33.
The couple's voices were hoarse after screaming too loudly to cheer on Lu Lan, who finished fourth behind Indonesia's dark horse Maria Kristin Yulianti in women's singles badminton. Their palms became painful from repeated clappings for Zhang Ning and her teammate Xie Xingfang, who took gold and silver respectively.
Even expectant mothers refused to stay away from the excitement. "My husband and parents tried to stop me, but I can't afford to lose this opportunity. It would be a shame if you stay away with the Games in town," said a woman surnamed Hu, who is due to give birth in a week or two.
Actually, a baby boy was born in a bathroom of the Olympic beach volleyball stadium in Chaoyang Park of eastern Beijing on Friday morning, a medical worker at the stadium told Xinhua on Saturday. The mother, who was watching the competition, was apparently unprepared that her child would come so fast.
"We received reports at 10:10 am and got there in four minutes. The baby was already there," said Kang Nan, medical chief at the stadium. "We cut the umbilical cord and sent them to the nearest hospital."
He said both the mother and baby were healthy now.
The oldest Olympic spectator so far is 104 years old, according to a local newspaper, the Legal Evening News.
The old woman watched a women's artistic gymnastics qualification game last Sunday on her wheelchair at the National Indoor Stadium close to the Bird's Nest, accompanied by two family members and a volunteer at the site, the newspaper said without giving her name.
While ticket holders fully exploit their passes to roam in the Olympic Green all day long, those without a ticket would stay tuned at China Central Television's Olympic Channel, or jump onto any bus en route to the Olympic facilities -- even if it is just a faraway look at the Bird's Nest.
The nation's passion for the Games has gone far beyond the host city. In Chifeng City of the northern Inner Mongolia Autonomous Region, a common way of greeting each other these days is "How many gold medals have we got?"
In Wenling City of east China's Zhejiang Province, some senior citizens, unfamiliar with most of the Olympic events and even unable to fully understand the CCTV commentators' explanations in mandarin, got assistance from youngsters in the community, who volunteered to interpret for them in the local dialect.
"Since the opening of the Games on Aug. 8, I have been spending most of the day watching the competition in the community clubhouse, except for the three meals," said Lin Meifeng, a gray-haired woman in her 60s.