BEIJING -- The Chinese people's passion for the Olympics has reached a climax on Saturday, the eighth day of the competitions, despite the host country's slowdown in its gold harvest to win just one out of the total 27 gold medals on offer.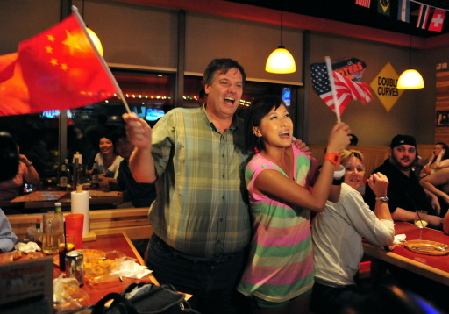 US and Chinese basketball fans get in the spirit of the competition while watching a men's basketball game between China and the United States at a restaurant in Beijing August 10, 2008. [Agencies]
Tens of thousands of people flooded into the Olympic Green early in the morning to watch the games or simply tour the area, which opens only to accredited participants of the Games or spectators holding tickets of the day.
The rapture on their faces was obvious. Most spectators, men and women, young and old, wore on their cheeks stickers of the Chinese national flag or the Olympic mascot dolls, Fuwa. Some waved flags -- both the Chinese Five Stars and the Olympic Five Rings, while others put red cloth bands around their heads that read "Go, go, China; China, sure to win."
Related readings:


 Lighting the passion for Olympic Memorabilia


 Olympic passion


 Suzhou alight with Olympic passion


 Passion and support
"I came to Beijing just for the Olympics," said Li Junfeng, a 20-something man from the southwestern Guizhou Province. Despite Saturday's scorching heat that brought the high temperature to over 30 degrees Celsius at midday, Li cloaked on his back a full-sized national flag, on which he wrote in dark ink "One World, One Dream."
Li's ticket, bought by a friend in Beijing after lining overnight, gave him access to a hockey game between China and South Korea that started at 6:30 p.m., but he took an early morning subway train in order to tour the Olympic central area as far as he was allowed.
Monday morning's competitions, including swimming finals in which Michael Phelps won his seventh Beijing Olympic gold and Cesar Filho Cielo snatched the first swimming gold for Brazil in the Water Cube, and a series of athletic competitions at the Bird's Nest, drew multitudes of spectators to the two centerpiece venues and the adjacent area.
Zhu Xingchao took his time to see every corner of the Bird's Nest after the athletic events, and was among the last few spectators to leave the steel-latticed structure.
"Beautiful stadium, wonderful games," said the 70-year-old retiree from the Beijing-based Chinese Academy of Sciences. "I screamed and applauded like all the youngsters around me."
By watching the athletes compete, Zhu said he hoped to cheer up his wife, who suffers cancer. "I think she enjoyed every bit of the games and hope it's good for her health."
At 34 months old, Huang Xinzhu is apparently too young to be a real fan. She slept away half of the morning competitions and enjoyed the second half by waving her little flag and shouting "Go, go."