BAISE, Guangxi: Six of the 36 men trapped in the Nadu Mine in Tiandong, the Guangxi Zhuang autonomous region, which was flooded on Monday, are dead, a local official said Tuesday.
Zhou Zhangshi, director of the Tiandong county publicity department, said rescuers had retrieved six bodies from the flooded mine shaft, and are continuing to search for the rest of the missing miners.
Huang Yifei, a member of one of 10 rescue teams working in the mine, said: "We have searched more than 3 km underground and found six bodies."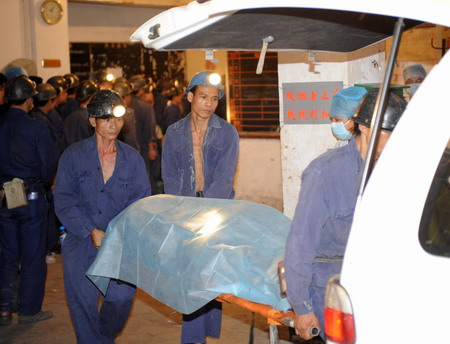 Rescuers carry a dead coal miner's body retrieved from the flooded mine shaft onto a car on the night of July 22 2008. [Xinhua]
He said he was worried about the condition of the missing men.
The 10 teams, which comprise 109 rescuers and medical personnel, have descended deep underground and are carrying food, water and medical supplies, Zhou said.
The teams have been using pumps to draw water from the mine since Tuesday morning, and a 2-km ventilation pipe has been installed, he said.
Related readings:


 Six miners confirmed dead in flooded S China coal mine


 36 miners still trapped in flooded coal mine


 56 trapped in mine flooding in South China
By 6 pm Tuesday, the water in the mine had begun to retreat, Zhou said.
More than 1,000 people are working around the clock at the scene, Zhou said without explaining the role of the hundreds who are not part of the rescue teams.
Wang Jun, director of the State Administration of Work Safety, arrived at the scene at 3:40 Tuesday morning to coordinate the rescue effort.
Guo Shengkun, Party secretary of the Guangxi Zhuang autonomous region and Ma Biao, the region's chairman, are also on site. A rescue headquarters has been set up and divers are being sent into some of the deeper tunnels, Zhou said.
Mine authorities said 56 miners were underground when the mine flooded. Seven managed to escape and 13 were rescued overnight.
However, according to the Xinhua News Agency, the State Administration of Work Safety has different figures.
Its website said 99 miners were at work at the time of the flood, 50 of whom escaped, 13 of whom were rescued and 36 of whom were trapped.
The 13 rescued miners were sent to Renmin Hospital in Dongtian.
Two were later discharged, the hospital said.
The cause of the flooding is still unclear, Zhou said.
Huang Zhao, the mine's chief engineer, said the ventilation, drainage and lift facilities in the mine complied with regulations.
The coal mine, which opened in 2003, is owned by the Youjiang mining bureau in Baise and has estimated reserves of 2.98 million tons.