Russia will soon return 174 sq km of territory on the northeast border to China, ending more than 40 years of negotiations.
The two countries will sign an agreement to this effect during Russian Foreign Minister Sergey Lavrov's two-day visit to Beijing that starts today.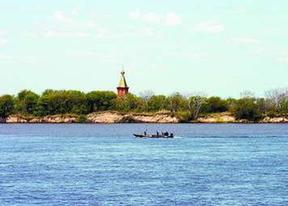 A view of Heixiazi Island. [File photo] 
According to the agreement to be signed, Russia will return Yinlong Island (Tarabarov Island) and half of Heixiazi Island (Bolshoi Ussuriysky Island).
The islands are at the confluence of the Heilongjiang and the Wusulijiang rivers that serve as the natural border between the two countries.
"This will end the boundary demarcation work (between China and Russia), for which the two countries have been negotiating for more than 40 years," the Russian Foreign Ministry said on Friday.
"And it will mark the legal demarcation of their boundary. It will be a big event for the two countries."
Lavrov is scheduled to reach Beijing this morning and meet with his Chinese counterpart Yang Jiechi a few hours later, when they will sign the agreement and hold a joint press conference.
Related readings:


China, Russia sign border agreement


Successful demarcation makes strong Russia ties


Leaders agree over demarcation
In October 2004, when Vladimir Putin, then Russian president, visited China, the two countries signed an agreement for the ultimate return of the territory.
The area to be returned is half of the Chinese territory the former Soviet Union occupied during a 1929 border skirmish. In Chinese, the area is collectively referred to as the Heixiazi Islands.
After the 2004 agreement, the two sides spent three years delimitating the border around the islands. And earlier this month, a senior Russian security official said the demarcation work had been finished.
On July 17, the Russian Minister Counselor to China, Igor Morgulov, said that Russia would sign "technical documents" on the territory with China.
All the problems plaguing the agreement have been solved and there is no need for further discussions, he said.
After being occupied for nearly 80 years, the territory, the first place on the mainland to see sunlight, will be returned to China.
Lavrov will also meet with President Hu Jintao and Premier Wen Jiabao during his visit.