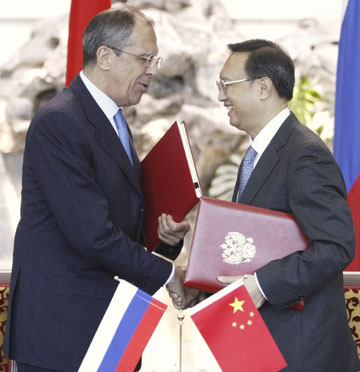 Russian Foreign Minister Sergey Lavrov (L) shakes hands with Chinese Foreign Minister Yang Jiechi after they signed documents on a border agreement in Beijing July 21, 2008. [Agencies]
BEIJING -- China and Russia signed an additional protocol on the eastern part of borders they share, which marked the completion of all the 4,300-km-long border survey and determination.
The protocol, with a map affiliated, was signed in Beijing Monday by Chinese Foreign Minister Yang Jiechi and visiting Russian Minister of Foreign Affairs Sergei Lavrov.
Yang said at a press briefing after his talks with Lavrov that the two sides exchanged wide-ranging and in-depth views on how to further promote the Sino-Russian strategic partnership and enhance bilateral cooperation on the international and regional issues.
He said the two sides had reached wide-ranging consensus and the talks were "positive and fruitful".
Lavrov said the talks were "fruitful" and concentrated on how to carry out bilateral agreements and the new tasks raised by the leaders of the two countries during Russian President Dmitry Medvedev's China visit in May and contacts between Chinese President Hu Jintao and Medvedev in Japan in early July.
He also told reporters that Russian Prime Minister Vladimir Vladimirovic Putin would attend the opening ceremony of the Beijing Olympic Games and meet with Chinese leaders.
The two sides would exchange views on major and crucial issues in bilateral relations, especially cooperation in the economic and trade field during their meetings then, said Lavrov.