Beijing and Taipei made history on Friday, agreeing to end a 59-year-old break in transport links by conducting direct flights four days a week, and increasing tourism, a move seen as a likely harbinger of more ties and cooperation between the two.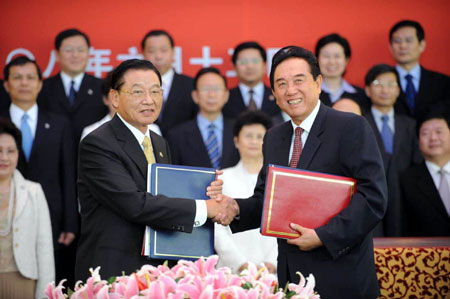 Chen Yunlin (R), chairman of the mainland's ARATS, and Chiang Pin-kun, chairman of the Taiwan-based SEF, shake hands after signing the agreements on cross-Straits weekend charted flights and mainland tourists' traveling to Taiwan, in Beijing, June 13, 2008. [Xinhua] 
Direct chartered flights between five mainland cities, including Beijing, Shanghai, Guangzhou, Xiamen and Nanjing, and eight Taiwan cities will be formally launched in July during weekends from Friday to Monday. More mainland airports will be added later, according to the Xinhua news agency.
The agreement, signed in Beijing during their first formal talks since 1999 between mainland's Association of Relations Across the Taiwan Straits (ARATS) and Taipei-based Straits Exchange Foundation (SEF), comes a day after the two said they had reached a consensus on setting up permanent representative offices to improve contacts.
Thousands more mainland travelers are expected each day to visit scenic spots in the island – the Sun-Moon Lake and the A-Li Mountain the most popular among mainlanders, which will boost tourism consumption in Taiwan. Under the new deal, the number of mainland visitors okayed to travel to the island every day will amount to 3,000.
Such arrangements would mark a huge step forward in establishing cross-Straits contacts and trust, though Taiwan's chief negotiator, Chiang Ping-kun, said that authorities in Taipei still needed to approve the measure.
"There is still a long way to go for normalization of cross-Straits economic and trade exchange," Chiang told reporters following the signing of the transport and tourism pacts. "There are still many issues to be discussed including expanding weekend charter flights into regular charter flights."
Taiwan has banned direct scheduled flights ever since the two sides split in 1949 following a civil war.
The agreement signed at a state guesthouse in western Beijing on Friday will allow for 36 direct charter flights to cross the 100-mile-wide Taiwan Strait running from Friday to Monday beginning on July 4.
Flights will be shared equally between mainland and Taiwan airlines. Flights would be open to anyone carrying valid documents, including non-Chinese travelers.