BEICHUAN, Sichuan -- A "decisive victory" was achieved Tuesday in draining the Tangjiashan quake lake that had been threatening to breach its dam and wash away people downstream.
Liu Qibao, Party chief of Sichuan province, said this after more than half of the water in the lake had flowed out through a drainage channel.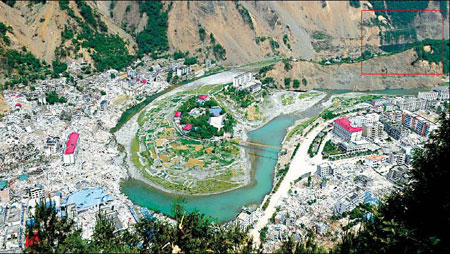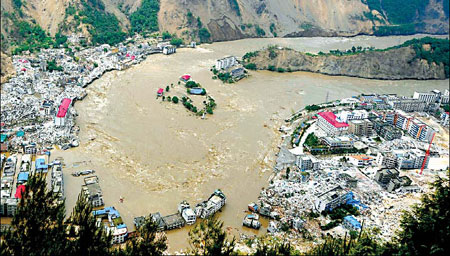 A combo photo shows a view of the earthquake-hit county of Beichuan before the flooding and after a controlled draining of the nearby Tangjiashan lake (in red frame) on Tuesday. [Agencies]
Water gushed out of the quake lake, the largest of the more than 30 formed by landslides triggered by the May 12 earthquake, after soldiers blasted the boulders and mud blocking the flow in channel.
The muddy water flooded low-lying areas in the devastated Beichuan county, which had already been evacuated.
Water from the lake on Jianjiang River flowed into the Fujiang River that runs through Mianyang city. People there were afraid that once the lake water flowed into the Fujiang River, it would break its banks and flood the city.
But their fears were proved wrong, although an orange alarm was issued before noon yesterday.
The more than 250,000 people living downstream, who had been relocated, can return home in two or three days if the water from the quake lake maintains its present flow, Minister of Water Resources Chen Lei said.
More than half of the lake's 250 million cu m of water has flown out since soldiers and policemen dug open the channel on Saturday morning, the lake emergency rescue headquarters said yesterday.
The lake's dam is more secure too because the channel is deeper now, easing the pressure of water on the wall.
The water level in the quake lake had dropped to 720-721 m above the sea level by 5 pm, nearly 20 m below the highest, or the overflowing point. This means the outflow is now higher than the inflow, experts with the headquarters said.
"The best thing to do would be to drain the Tangjiashan quake lake completely before the rainy season, though the water level is likely to hover around 720 m for some time now," Chen said.