MIANYANG/TANGJIASHAN - Emergency workers are scrambling to get residents downstream of a rising quake-created lake ready to go if the water body bursts.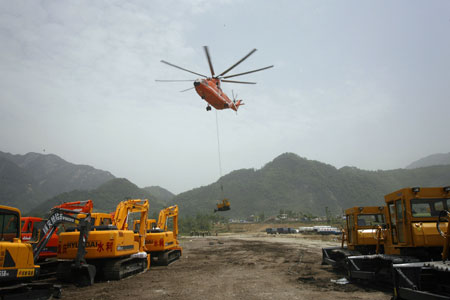 A helicopter arrives to transport heavy machinery to the Tangjiashan quake lake, in the earthquake-hit area of Leigu town in Beichuan county, Sichuan province May 28, 2008. [Agencies] 
Tangjiashan lake, formed by landslides that blocked a river known as the Jianjiang after the May 12 quake, is at risk of breaching its bank.
Every resident from the targeted areas in Mianyang, a hard-hit city in the May 12 quake, has been kept well-informed of the emergency evacuation plans through repeated drills and public announcements, including routes for evacuation, directions to safe areas and locations of temporary shelters, said Tan Li, Party Secretary of Mianyang.
"The efforts are aimed at getting all the 1.3 million residents on the move within four hours in case the quake lake bank fully opens, and zero deaths in the process of evacuation. Otherwise, it will mean a breach of duty on our part as government employees," said Tan, who is also chief of Mianyang City Quake Control and Relief Headquarters.
To this end, many soldiers, armed police and security officers are on standby and will go door-to-door to look for laggards in case of emergency, according to Tan.
Meanwhile, hundreds of workers, using 40 large pieces of earth-moving equipment including bulldozers, have been working non-stop on top of the Tangjiashan barrier, constructing a diversion channel.
Yang Hailiang, a leading on-site rescue operation officer, told Xinhua that one third of the sluice was finished thanks to factors including fine weather on Wednesday and airlifts of machinery and other supplies.
Water resources workers have been closely monitoring hydrological data concerning Tangjiashan, one of 35 such lakes, around the clock.
The lake is some 3.2 kilometers away from the seat of Beichuan County, the area worst hit in the devastating quake on May 12. It is inaccessible by road and can only be reached by foot or air.
The lake holds about 130 million cubic meters of water, said Liu Ning, the Ministry of Water Resources chief engineer, who is at Tangjiashan to oversee the diversion work. Its water level was 727.02 meters on Tuesday, up 1.82 meters from Monday and only about 25 meters below the lowest part of the barrier.