By Rikki N. Massand (China Daily)
Updated: 2008-05-28 07:42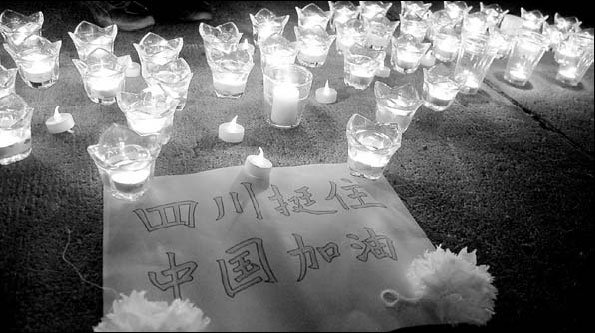 Harvard students hold a candlelight vigil for Sichuan earthquake victims on May 18. Wei Lai
CAMBRIDGE, Mass: There were scenes to accompany a moving moment of silence. People gathered in front of a giant heart-shaped candlelit design to mark the culmination of a weeklong remembrance for victims of the Sichuan earthquake.
From Boston to the Bay Area, the US mourned for China's thousands of victims and the help they will need in the rebuilding and recovery process. Swift action came from the Chinese American community as it revved up its efforts to deliver goodwill.
On May 18, Harvard's candlelight vigil summoned 500 people from the greater Boston area, including students and scholars from the Chinese mainland, Hong Kong and Taiwan as well as Harvard faculty members, students and international students.
The Sunday night memorial was a joint endeavor by Harvard Medical School, Business School, Kennedy School of Government, Law School, Harvard School of Public Health, Graduate School of Arts and Sciences, and Harvard College.
Liu Jianing, master of ceremonies, said what struck her most was the support from people from all different backgrounds.
"You could tell that people attending were of different races, from different countries and of different faiths, but they all came to this event because they all cherish life," Liu said.
In the US, universities and educational settings everywhere joined in this humanitarian spirit, including Harvard's rival Northeast institutions, Yale University, MIT and Cornell University.
Cornell University president David Skorton, his wife and two vice-presidents attended a candlelit memorial on May 16 organized by its Chinese Students and Scholars Association.
In the western US, memorial services were held at the University of Washington, UC Berkeley, Stanford University, UCLA and the University of Nevada.
The UC Berkeley chapter of the California State Student Association sponsored an extra performance of the play Not Seagull, Not Rhino and donated all proceeds to Sichuan's relief efforts, raising more $100,000.
University chancellor Robert J. Birgeneau's statement on the college's website outlines the proactive initiatives the school had taken in response to both China's earthquake and the devastating Myanmar cyclone.
"Staff members from UC Berkeley's Human Rights Center are already in Myanmar, sharing their extensive experience in social reconstruction efforts after the natural disaster.
"Our faculty in civil and environmental engineering - experts in earthquake engineering - are looking into ways to get to earthquake-ravaged areas of China to aid in damage assessment. Executive vice-chancellor and provost George Breslauer will be in Beijing next week, and will inquire as to how UC Berkeley might further offer its expertise in recovery efforts."
Chinese at American universities were not alone in their immediate and commendable call to action. One example, the American Chinese Cultural and Education Foundation assembled an Earthquake Task Team on May 14 and in the next five days raised $100,000.
In Atlanta, Georgia, the National Association of Chinese Americans held a fundraiser luncheon at its annual member meeting over the weekend.
(China Daily 05/28/2008 page4)