Gov't spending slashed for quake relief
The State Council on Wednesday ordered government departments to cut spending by 5 percent this year to free up money for quake reconstruction.
The money will help to finance a 70 billion yuan ($10 billion) fund for rebuilding after the May 12 quake, which killed tens of thousands, the Cabinet said on its website.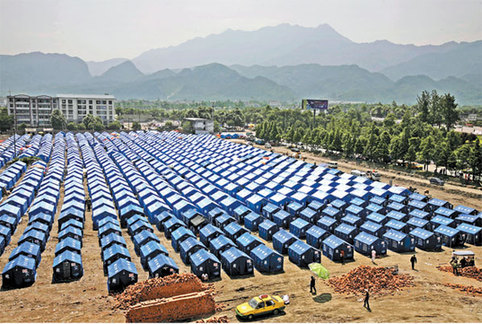 Earthquake survirors walk outside shelters in Dujiangyan, May 19, 2008. The quake has made thousands of people homeless in Sichuan.  [Agencies]
The death toll from the quake rose to 41,353 by noon on Wednesday, and 274,683 were injured, according to the Information Office of the State Council. The number of missing has been put at 32,666.
The overall impact of the quake on China's fast-growing economy is expected to be limited. Sichuan is a major source of coal, natural gas and some farm goods but has little industry.
The quake destroyed thousands of buildings, knocked out power and phone services and damaged factories, mines and other facilities. State-owned and private companies suffered 67 billion yuan ($9.5 billion) in quake losses, according to the government's preliminary estimates.
Wednesday's Cabinet statement gave no details of how much money the spending cuts were expected to raise. But the reported budget for the central government this year, including the military, is 1.3 trillion yuan ($187 billion) - and 5 percent of that would be 65 billion yuan ($9.3 billion).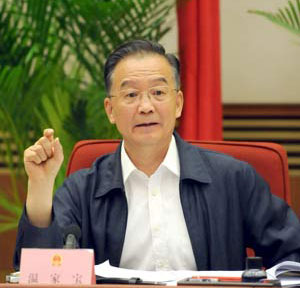 Premier Wen Jiabao speaks on the quake relief work during a meeting of the State Council, in Beijing, capital of China, May 21, 2008. [Xinhua]
Beijing will set a moratorium on new government building projects, Premier Wen Jiabao told a State Council meeting.
Wen said the quake "added uncertainties" to the economy but he said it was stable and its fundamentals were not affected, Xinhua reported.
Donations to quake-hit regions reached 16 billion yuan ($2.29 billion), of which 1.76 billion yuan ($250 million) has been forwarded to affected areas, according to the information office.
In addition, the Ministry of Finance announced on Wednesday that it has allocated another 660 million yuan ($94.83 million) in relief funds to quake-stricken areas.
As the summer draws near, the quake-hit regions are facing mounting pressure to prevent epidemics.