Australia and France can no longer serve as safe havens for Chinese fugitives, with the country's top legislature approving two extradition treaties Thursday.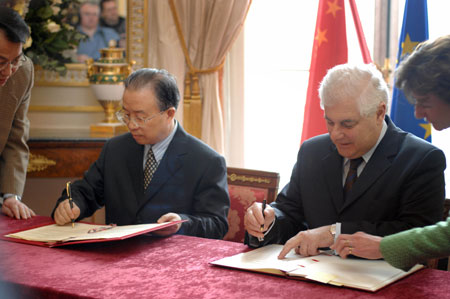 State Councilor Dai Bingguo and French justice Minister Pascal Clement sign the extradition treaty between China and France in this 2007 file photo at the French justice ministry in Paris. [Agencies]
The treaties, one signed between China and France in March last year and another between China and Australia in September last year, cover issues such as extradition obligations, extraditable offenses, reasons that can and should be used to refuse extradition, and property transfer as well as the settlement of disputes.
They were submitted by the State Council for review at the second session of the Standing Committee of the 11th National People's Congress on Tuesday and were ratified when the session ended yesterday. But the texts of the two treaties were not made public.
Vice-Foreign Minister Wu Dawei said while explaining the treaties to the lawmakers that as China's political and economic relations with France and Australia were intensifying, it was necessary to sign the treaties to effectively combat crimes.
However, Wu said the death penalty was a major problem during the treaties' negotiation, but the problem was properly solved after repeated discussions. No details were given.
Huang Feng, a law professor at Beijing Normal University who has been involved in the negotiations of several extradition treaties between China and other countries, said the treaties' contents conform to the basic principles and judicial practice of China's laws, and serve the country's interests.
"They will help promote China's judicial cooperation with these two countries and propel their friendly relations," he said.
Huang said China has so far signed extradition treaties with 31 countries, mainly with neighbors such as Thailand, Russia, Mongolia and Cambodia.
In an interview with China Daily last September, officials also said that China needs to speed up negotiations with the United States and Canada to conclude extradition treaties as scores of corrupt officials have fled there.
"Besides, a number of officials have fled to European countries such as the United Kingdom, Germany and the Netherlands," Gao Yuntao, deputy head of the international cooperation bureau of the Supreme People's Procuratorate, said in the September interview.
Figures from the Ministry of Public Security released in 2006 show more than 800 suspects accused of embezzling some 70 billion yuan ($10 billion) worth of property and cash had fled abroad, 500 of whom were still at large. But experts estimate the actual number to be much larger.
Among them is Lai Changxing, dubbed China's most wanted man.
The key figure in the country's most notorious smuggling case in Xiamen, Fujian province, Lai is accused of smuggling $10 billion worth of goods, including cars and cigarettes, in collaboration with corrupt officials. He fled to Canada in 1999 with his family, and has been trying to gain refugee status there.
Xiang Dang, a professor with the Chinese People's Public Security University, said many countries are unwilling to repatriate suspects because they may face the death penalty, which has been abolished in many countries. There are also differences on how to handle property and money seized abroad.