Shanghai scientists have made two key breakthroughs with homegrown technology in developing an unmanned lunar rover to probe the lunar surface and environment.
Xinhua News Agency reports, scientists announced their achievements on the lunar rover locomotion system and the complex design of the vehicle at a summarization meeting in Shanghai on Wednesday.
They have gone through three stages to develop the homegrown lunar rover technology, including building the concept model, the principle model and the engineering model.
Based on their two breakthroughs, scientists came up with a feasible plan for China's own lunar rover that will land on the moon with a soft-lander during the country's second stage lunar exploration.
China's moon exploration program will be carried out in three stages: orbiting, landing and returning from the Moon.
China successfully launched its first lunar probe satellite Chang'e I in October last year, and published its first lunar photo in November. The Chang'e I satellite will chart a 3D image of the moon.
In the second lunar exploration stage, a remote-controlled lunar rover will conduct experiments and send back data to Earth. During the third stage, a module will drill out a chunk of the moon and bring it back to Earth.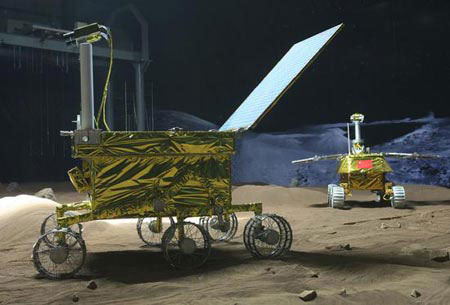 A lunar rover sample is on show at the lunar surface environment simulation laboratory in Shanghai on Wednesday, April 23, 2008. [CFP]