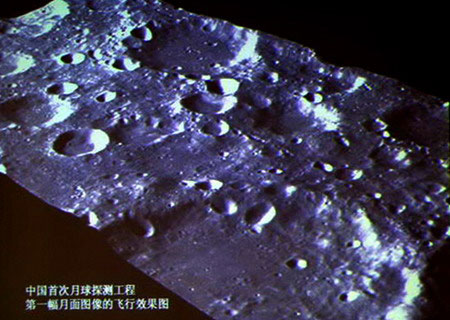 The first three-dimensional image of the lunar surface is presented to the public in the National Science Library (NSL) on Sunday, December 2, 2007. Researchers created the image on the basis of the data sent back from China's first lunar orbiter Chang'e-I. [china.com.cn]
Scientists and astronomy enthusiasts all over the country all have access to data sent back from China's first lunar orbiter Chang'e-I, a leading scientist in the program said on Sunday.
Ouyang Ziyuan, academician of the Chinese Academy of Sciences (CAS) and chief scientist of the lunar exploration program, said at present the scientific instruments on board Chang'e-1 have all gone into operation and the satellite is sending back 3 trillion of data per second. The total data volume will reach 28 T (1 T is equivalent to 1,000 G) next year.
"The money used for the Chang'e project comes from the taxpayers and, therefore, the data should also be made public. Any scientist or astronomy lover can apply to the state in accordance with certain procedures to obtain data he needs," Ouyang said.
He also refuted rumors spread by some Chinese netizens that the first image sent back by Chang'e-I "copied the picture from the United States".
"Because China and the United States took the images in the same region, it's natural the two pictures look alike. But through careful observation you will see there are some nuances," he said.
He further explained that scientist have already learned a lot of information from the first image. "We can see many craters on the lunar surface, some are of bowl's shape, some are center conical pits, and most of all, there are multi-loop pits. These craters show that the moon has experienced different disasters."
China published the first picture of the moon captured by Chang'e-1 last Monday, marking the success of the country's first lunar probe project. The image showed a rough moon surface with scattered round craters both big and small.