On Lisa Carducci's desk, a framed front cover of Beijing Review, a weekly magazine published in many languages, features the Canadian writer dressed in bright red, holding a small card in front of the five-star flag of China.
The photo was taken on March 16, 2005, when Carducci became one of the first 12 foreigners to obtain the Beijing Permanent Residence Card, nicknamed China's "green card". In 2001, she was also granted the Friendship Award, the highest honor the Chinese government grants foreigners who have made great contributions to the country.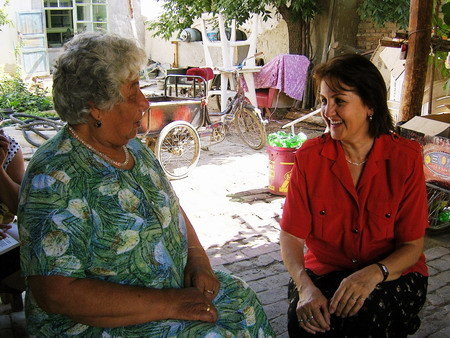 Lisa Carducci (right) talks with Russian woman Jina during her trip to the Xinjiang Uygur Autonomous Region. [China Daily, courtesy of Lisa Carducci]
The front cover, however, is a mock-up made by her colleagues. "It was a very meaningful event," recalls Yu Hong, who worked with Carducci when she started with the French edition of Beijing Review and Chinafrica, a monthly magazine.
"Lisa is an outstanding staff member, she would never leave any questions unanswered. She often called the African embassies to check facts," Yu recalls. Gong Jieshi, an editor with the Foreign Languages Press, agrees. "You can say she is a workaholic. There is nothing but work for her," Gong says.
Recently, Foreign Languages Press published English and French editions of Carducci's Those Wonderful People of Xinjiang, a book detailing the writer's travels through the northwestern region.
Among Carducci's 44 books, 37 were published in the past 17 years after she came to China, when she worked first as a university teacher of French and Italian, then as language consultant with China Central Television, and finally an editor, translator and columnist with Beijing Review.
Carducci has just returned from a 5-week trip to Ningxia Hui autonomous region, where she was deeply impressed by efforts to curb desert expansion. She now plans to travel to Guangxi, Inner Mongolia and Tibet, the other three Chinese autonomous regions.
Carducci retired last year. "I feel very free, very happy. I choose what I want to do. I could not stay without working, and it keeps me aware of Chinese news," says Carducci in her apartment near the Capital Airport.
When she first came to interview two artists in 2002, Carducci was fascinated by the red iron railings and tailor-made pine furniture. "I loved it at first sight," she recalls, "and wanted to live here." It just so happened that the artists were selling their apartment, then surrounded by quiet, green farm fields.
Today, planes rumble by every 3 minutes or so. Downstairs, her neighbors are enlarging their garages, taking out walls and columns. Despite her complaints, including letters to the local government, Carducci firmly regards the place where she raised 16 birds and grew 165 pot plants as her real home.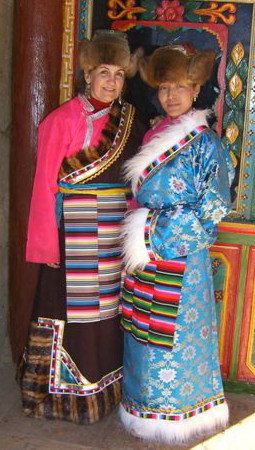 Lisa Carducci with her "Tibetan daughter" Gemar Yumco in Deqin, Southwest China's Yunnan Province. [China Daily]
Although her grandfather left Ripabottoni, a small town in Italy, for Canada in 1895, Carducci never found peace with her Italian origins and upbringing in French-speaking Quebec.
"All those years I was in Canada, I felt my body was in Canada and my mind was in Italy. I had two countries, but no motherland. When I came to China, I was 'all here' - body and soul; I was one, here. This impression was so good that I felt at home from the first moment. I felt good, at ease, satisfied."
This cultural recognition has been a slow process, says Carducci, who has won prominent literary awards in Italy and France and interviewed local people in Chinese. She first landed in Beijing in 1985 as a tourist, but it was in 1991 when her teaching career began in China that she gained deeper understanding of the country.
"As a teacher, I thought I was doing the most important job, because a teacher doesn't work on things, like one who makes cups that sell one yuan each," she says, rubbing the cup of Ningxia babaocha that she enhanced with roast sesame seeds and rose bud jam.
"It's not a money thing. You shape people, soul, heart, mind. For me, education is the most important thing for a person if you want to enjoy life."
Propelled by this strong faith, Carducci has supported 15 children through the Hope Project, to which she has donated all the money from her two art exhibitions held in Beijing.
Recently she got a gift from a 14-year-old girl she helps in Qinghai - an embroidery of lotus flowers. But there is a cigarette burn on it.
"This is something they had at home. It's more precious for me than if it were new, because it was theirs and they gave it to me."
However, Lisa worries about another girl, her "Tibetan daughter", who will graduate from Tibetan Medicine University this year. They have not been in contact with each other since December.
"I'm deeply worried about her safety," Carducci says. She doesn't know if the student is in Lhasa or Nyingchi in eastern Tibet, where she was taking an internship.
In 2006, Lisa spent the Spring Festival with Gemar Yumco's family in northwestern Yunnan. In three days, she took two planes, one bus, one truck and one horse before she reached the village. As Gemar Yumco's father put a white hada on her shoulders, she was moved to tears. "This was real life, not a TV show," she says.
The girl's sister and cousin greeted her the traditional way with yoghurt and buttered tea, not knowing if she could drink liquor. The neighbors brought many eggs to welcome her. "They were the most good-hearted people that I had ever met in my life," she says.
In the family's dim, smoky house, Carducci held the hands of Gemar Yumco's mother and admired her two rings. Upon departure, the 60-year-old woman insisted that she chose one as a souvenir.
"I really feel I belong to the family," says she, stroking the red stone on her right middle finger.
To learn more about the situation in Tibet, Carducci took a day off last week to find out what the Western press is saying. She says that two German papers "have acknowledged that they had fabricated news about Tibet".
Carducci has always been forthright in her opinion. When the Chinese embassy in Belgrade was bombed in 1999, she wrote an article saying that the United States was responsible.
When China Daily published it on the editorial page, two journalists, one American and one German, called her to ask who paid her to write it and if she was really a foreigner.
"When I defend China, it's because I think China is right. And I believe that those who accuse China do it because they don't know.
"Give me $1 million, I will tear it up, I will burn the money. But I will never say something I don't think personally.
"I may make mistakes, but my mistakes are sincere," says Carducci, who has donated blood 108 times, including 22 times in China.
The latest piece in Carducci's studio was painted in 2005, a large board that she would add different elements to each month. That was an eventful year: She got the Chinese "green card"; Voyage - poems of her journeys, won the Dijon City Publication Award in France, and The Twin Yokes Egg - a collection of short stories, was awarded the 2006 Publication Prize of Editinter; she visited her Tibetan daughter's family in Yunnan; she underwent a surgery, and so on.
With the "green card", she can stay in China without a work contract or a visa.
"This is my country. I'm at home here. If I had to leave the country, for me it would be, [sigh] the end of the world. I would die."