Weight is the only criterion so far to judge whether a farmer has done a good job raising pigs - how the hogs are treated will now come into the equation.
A government-funded pilot project to let 400 pigs in confinement play with toys is part of efforts to promote animal welfare.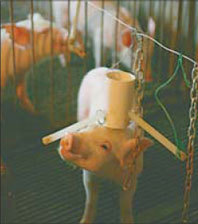 A piglet plays with toys at a research center's pigsty in this file photo. [China Daily]
Most pigs in China are raised in household farms, sometimes under poor sanitary conditions and inconsistent breeding patterns, resulting in diseases and poor pork quality.
The Pig Raising Research Center affiliated to the Chinese Academy of Agricultural Sciences, which is handling the project, aims to change that.
"A piglet is sometimes as sensitive as a baby," Tan Lei of the center - a key national lab - told China Daily.
"Ten days after birth, they are able to express such feelings as agitation, depression and distress by biting the pigsty bars or their own tails," Tan said.
In the confined atmosphere, they sometimes fight each other, and the resulting skin wounds can cause diseases, he added.
Giving them toys has proved useful in helping them avoid unhealthy behavior, Tan said.
"Our experiment has showed that pigs without toys are sluggish and lazy," he said.
"But those that play with toys are much happier and energetic. They sometimes chase me and even rub their noses against my legs to show their intimacy," he said.
Gu Xianhong, a professor at the Institute of Animal Science affiliated to the Chinese Academy of Agricultural Sciences, said improving pig welfare helps farmers earn more by avoiding deaths caused by diseases and enhancing meat quality.
China is the world's biggest country in terms of pig raising, with 470 million raised last year, or 48 percent of the world's total. Pork output reached 69.3 million tons last year.
However, most of the pork is sold in the domestic market as it does not meet animal welfare standard in some Western countries.
"Lack of standards and laws on animal welfare has led to China losing the European pork market, which only accepts meat from pigs raised organically and with proper care," said Gu.
He said that the government is trying to promote animal welfare by improving transport and slaughterhouse conditions; and has reportedly started a feasibility study on drafting an animal welfare law.
A series of international cooperation programs have also been launched to promote animal welfare and sustainable agriculture.
"The Chinese government officials whom I have met with are very receptive to that concept (of animal welfare)," said Major General Peter Davies, director-general of the World Society for the Protection of Animals (WSPA).
"There was little awareness of animal welfare several years ago in China, but people will very quickly understand it and see its benefits", Davies told China Daily.