PARIS - The ongoing Olympic torch relay in Paris was at least one hour behind schedule on Monday due to disruptions by protesters who supported Tibetan separatism.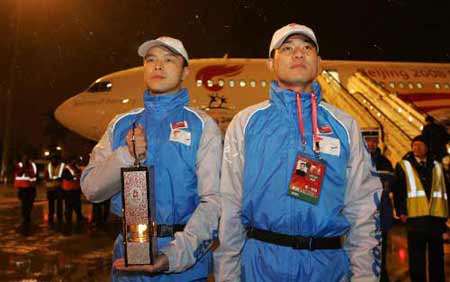 Two flame guards show the lantern which holds the Olympic flame at the airport in Paris, capital of France, April 6, 2008. Paris is the fifth stop of the 2008 Beijing Olympic Games torch relay outside the Chinese mainland.  [Xinhua]  
The relay resumed on ground at around 2 pm (1200 GMT) after the torch was put onto a bus three times for technical reasons, a Xinhua photographer following the torch relay witnessed.
The torch was first put on a bus shortly after its start from the starting point, the Eiffel Tower, and the second time was around 1: 30 pm (1130 GMT).
Earlier, a member from the French Greens Party attempted to snatch the torch from former world 400 meters hurdles champion Stephane Diagana, the first torchbearer, but was stopped by policemen.
French TV footage showed that police had clashed with protesters several times. At least five protesters were detained for blocking the Beijing Olympic torch relay in the French capital, the AFP news agency reported.
Around 3,000 French policemen have been deployed along the 28 km- journey of the Olympic flame in Paris, which started shortly after midday and is expected to conclude at 5 pm (1500 GMT) at Stade Charlety.
Henri Serandour, head of the French Olympic Committee on Monday criticized the protests as "highly regrettable."
"I think that people should have let this flame through, that they could have held their protests to one side," he said.
"Everyone has a right to express themselves but to stop it passing shows a lack of respect for the basic freedom of our athletes to carry this flame, which is a message of peace to the whole world," the chief said.
Another member of the French Olympic Committee said in Paris Monday that the Olympic torch relay should not be affected in any way.
"The Olympic sacred fire is a symbol of peace, tolerance... and should not be affected by anybody in any way," Guy Drut told France 3 television.
Spectators of the Beijing Olympic torch relay were greatly annoyed and angered by Tibetan separatists and their supporters attempting to disrupt the Monday event in Paris, the fifth leg of the flame's global tour.
"We've come here only to watch the torch relay," said a Paris student, who only gave his first name as Mark.
"What in the world does this have anything to do with us except for annoying us?" he added, pointing to Tibetan separatist demonstrators.
Liu Zijun, a Chinese student studying in Paris told Xinhua that the Beijing Olympic Games is a big event for China, she and her friends were very angry about the protests around the relay of the sacred fire.