Riots in Tibetan-inhabited areas in the provinces of Sichuan and Gansu, which neighbor Tibet, have been linked with Friday's deadly unrest in Lhasa that was coordinated by the Dalai clique, local government officials said.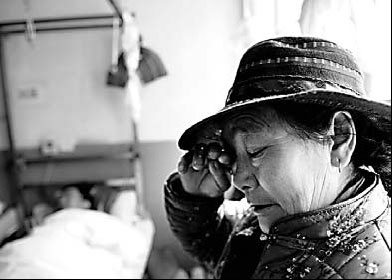 A Tibetan woman at the No 1 Hospital of Tibet weeps after her daughter was severely injured during rioting on Wednesday. [China News Service]
The mountainous Aba county in northwestern Sichuan saw mobs attacking shops and government offices on Sunday afternoon, while the counties of Xiahe, Maqu, Luqu and Jone and Hezuo city in the Gannan Tibetan autonomous prefecture in southern Gansu also witnessed unrest from Saturday onwards.
In both provinces, rioters, shouting slogans about "Tibet independence", carrying rocks and self-made petrol bombs or waving the flag of the "Tibetan government in exile", stormed into government offices, police stations, hospitals, schools, shops and markets.
Police officers and government workers were reportedly injured by the rioters.
"The series of riotous activities were not coincidental, but coordinated and closely linked with the unrest in Lhasa," Zhang Yusheng, a spokesman with the Gansu provincial government, said on Wednesday.
"This sabotage was well-organized and premeditated. It was rooted in the Dalai clique, whose ulterior motive was to disturb the Beijing Olympics, destroy peace and stability and split the country," he said.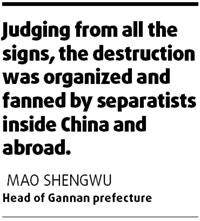 Sources with the Gansu government said pamphlets containing "Tibetan independence" material, were in circulation in the Gannan area as early as last Monday, the same day a "March to Tibet" was organized from across the border in India, and the same day as 300 monks from Drepung Monastery paraded into downtown Lhasa.
"Judging from all the signs, the destruction was organized and fanned by separatists inside China and abroad," Mao Shengwu, head of Gannan prefecture, where eight policemen and three government employees were injured, said.
Local governments have taken steps to maintain social order and protect the safety of the people in the wake of the riots.
They have also stepped up protection of hospitals, schools, banks and government agencies, Zhang said.
Xinhua