Bridge on way to school
(CRI)
Updated: 2008-03-14 10:11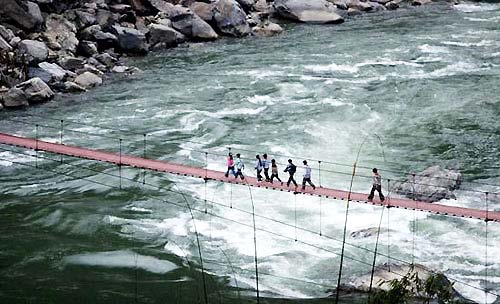 Construction of a 170-meter steel bridge over a section of Nujiang River in southwest China's Yunnan Province is completed on March 12. [Yunnan Daily] 
Tuesday was a good day for students living in a village in southwest China's Yunnan Province, as the construction of a bridge on their way to school was finally completed.
The 170-meter steel bridge was built over a section of Nujiang River, in the poverty-stricken Lisu Autonomous Prefecture.
The bridge replaced a steel cable, which used to be the only road for the children to go to school.
The construction work over the turbulent water, which was halted earlier this year amid the nationwide snow disaster, resumed in February thanks to donations from the society.