In January, the consumer price index (CPI) surged to 7.1 percent, creating a record in 11 years. Food prices, which account for one-third of the CPI basket, grew 18.2 percent, with pork prices up by 58.8 percent and poultry prices up 41.2 percent.
The figures suggest that consumer prices will continue to rise this year and the trend will be fairly difficult to contain within a short period.
Since the subprime crisis in the United States emerged last year, its influence has caused turbulence in the global financial market. Concern is mounting over possible economic recession in the US or even across the world.
The recent snowstorms that hit the southern regions of China raised fears in and out of the country about its impact on the economy.
The popular opinion was that China should reconsider its monetary policy, which was tightened late last year.
Admittedly, China will feel the shocks of a global economic slow down because it is a big player in international trade and an active participant in globalization.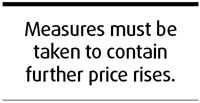 However, these shocks will not be significant enough for the decision-makers to change the current monetary policy. After all, an imbalance in the economic structure is a more important consideration.
Although regions hit by the snowstorms suffered heavy financial losses, the impact on the national economy was temporary and fractional.
The government has earmarked huge sums of money to help people in the disaster-stricken areas in the repair and building of their homes and to restore their economies.
This government help will also serve to further drive the economic engines of these regions.
The country's main concern is how to stem inflation. Some of the regions hit by the snowstorms are agricultural bases producing vegetables, grains and fruit. Their production will definitely be reduced this year.
So, it is predictable that agricultural produce will see a price rise later this year, which in turn will push the CPI even higher.
Before the Spring Festival last month, the government implemented a series of measures to control prices, especially food prices. But these measures only had a limited effect.
Administrative control over commodity prices has little effect in the current stage of market development. Businesses and the market have various means to negate State price controls.