Chang'e I, China's pioneering lunar probing satellite, came through its first lunar eclipse Thursday and has regained full operations.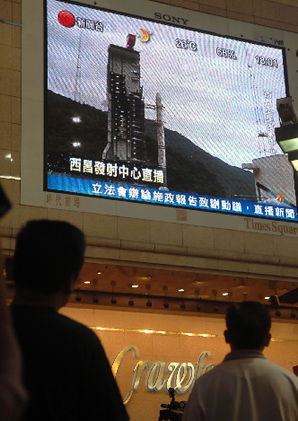 Residents gather in Time Square in Hong Kong to watch the live broadcasting of the historic launch of China's first lunar orbiter, Chang'e I in this October 24, 2007 photo. [Xinhua]
The moon orbiter was temporarily hidden from solar rays and lost contact with Earth for two-and-half hours during a blackout that started at 10 am, Ye Peijian, chief commander and designer in charge of the satellite system, said.
Chang'e I had to switch off some of its equipment and rely on onboard batteries during this challenging time, when it was blocked from solar energy, Ye said.
Full details of how Chang'e I performed during the eclipse were due to be released last night.
Gu Shen, a deputy director with the lunar probe's measurement and control system, said scientists adjusted the orbit of the satellite and shortened the time the probe was out of direct sunlight by about 80 minutes.
As of 10 pm Wednesday, the satellite had completed 1,204 orbits of the moon. Prior to Thursday's eclipse, the longest time Chang'e I had been without contact with the Earth was 49 minutes.
The European Space Agency helped monitor the satellite, which will perform a second orbital adjustment during another eclipse in August, Ye said.
Chang'e I, which blasted off from the Xichang Satellite Launch Center in Sichuan province atop a Long March 3A rocket, is designed to produce a three-dimensional survey of the lunar surface.
The 2,350-kg satellite will also analyze the abundance and distribution of elements on the moon's surface, investigate the characteristics of the powdery soil layer on the surface, and explore the environment between the Earth and the moon.
Ye also said Thursday that China plans to launch Chang'e II some time around 2009.
Xinhua contributed to the story