YICHANG - The Three Gorges Project will start full-scale operation this year, its developer announced on Tuesday.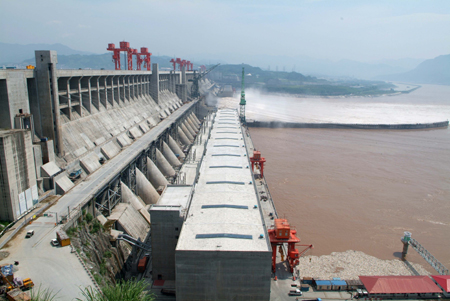 The Three Gorges Project is seen in this file photo taken in Yichang, Central China's Hubei Province, May 22, 2007. [Xinhua] 
Addressing an ongoing corporate work conference in Hubei Province, Li Yong'an, China Three Gorges Project Corporation (CTGPC) general manager, said principal work would be completed in late 2008, one year ahead of schedule.
He said workers had finished all transmission facilities and would fully complete the relocation task before the summer flood season starts on the Yangtze River. They have been installing a ship lift and the final five turbogenerators, all of which are on the river's southern bank.
The Three Gorges, which consist of the Qutang, Wuxia and Xiling gorges, extends for about 200 kilometers on the upper and middle reaches of the river. They are a popular tourist destination, known for their natural beauty and historical and cultural relics.
China launched the Three Gorges Project, a multifunction water control facility, in 1993, with a budget of US$22.5 billion.
According to the original plan, the project requires the construction of key facilities, including a gigantic dam, a five-tier lock, a ship lift and 26 turbo-generators. It has involved the relocation of at least 1.2 million residents.
The 26 turbogenerators -- 14 on the northern bank and 12 on the southern bank -- have a designed annual capacity of 84.7 billion kilowatt hours of electricity.
The project is intended to reduce the threat of floods on the Yangtze from once every 10 years to once every 100 years.
To date, workers have completed installation of 21 generators on both banks of the Yangtze, according to Li.
Last year, CTGPC generated 77.07 billion kwh of electricity and recorded 12.94 billion yuan (about US$1.77 billion) in profit, 78 percent more than the targeted profit. It plans to generate 88.15 billion kwh of hydropower this year, with a profit target of 12.46 billion yuan.