BEIJING -- The first charter flight left here on Saturday morning for Taipei, carrying 142 passengers across the Taiwan Straits for Spring Festival family reunions.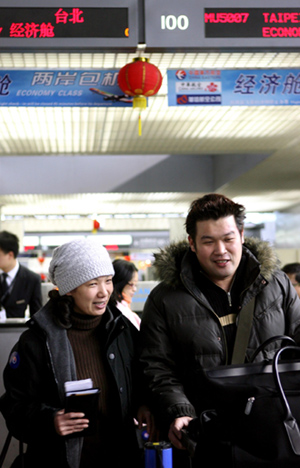 Two passengers get ready to board the plane of a cross-Straits charter flight for the upcoming Spring Festival at the Pudong Airport in Shanghai, February 22, 2008. [Xinhua]
It was the fifth year that cross-Straits charter flights were offered for the traditional Chinese lunar new year, to fall on February 7 this year.
Most of the passengers were Taiwan businessmen and their relatives, according to Hainan Airlines, which operated the flight.
Some of the Taiwan people who are scheduled to take the flight back to Beijing are tourists, the company said.
The weather in Beijing was fairly good, the company said.
Another flight, with 299 passengers on board, left amid snowy weather in Shanghai after an hour of delay.
Four round-trip flights were scheduled on Saturday, the first day of the charter flight season between February 2 and 15, one from Beijing and three from Shanghai.
"It snowed heavily here today. I had been worried but the airline told me that it was well prepared for a safe take-off and flight," said a Taiwan passenger. "I am quite excited to go home."
It was the second time for another Taiwan businessman to take the charter flight. "It is quite convenient for me. I hope there will be regular flights on the same route as charter ones," he said.
About 200,000 Taiwan people now live in Shanghai.
Twelve airlines from both sides will run 94 round-trip flights between Beijing, Shanghai, Guangzhou and Xiamen in the mainland and Taipei and Kaohsiung in Taiwan.
The Chinese mainland and Taiwan launched charter flights for the Spring Festival season in 2003.