Liu Heung Shing advises organizations like the Hollywood talent agency Creative Artist Agency and has worked more than a decade as a senior executive at Rupert Murdoch's News Corporation and Time Warner.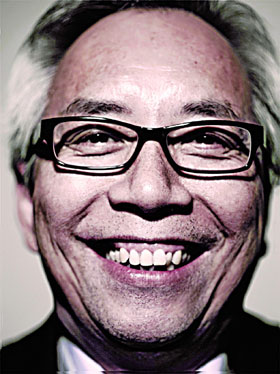 But what he prizes most is his 20-year career as a photographer.
Liu is the only ethnic Chinese to have won a Pulitzer for photography - for spot news photography in 1992. Through his lens, the world has come to see China going through dramatic changes, from the aftermath of the death of Chairman Mao to its rise as an economic powerhouse.
To present his "personal journey" of what he felt and experienced in China, he is compiling a collection of photographs. "I call it 'China as seen by Chinese photographers' and the primary motive is to reaffirm the progress of New China despite early setbacks," he noted.
What distinguishes him is his unique cross-cultural perspective. He says foreign reporters may take very good photos of China, but they invariably employ a foreign cultural perspective. Internationally-famed French photographer Henri Cartier Bresson was once quoted as saying that it is important for photographers to synchronize their eyes and hearts.
On the other hand, Liu does not identify with some of the photos published locally that have a strong dose of ideology and publicity.
"China is changing so fast that an authentic Chinese perception will need to evolve, but it may take generations for that," he said in an interview at his traditional courtyard house in a Beijing hutong.
As a foreign correspondent, Liu spent the bulk of his journalistic years around the world in cities such as Beijing, Los Angeles, New Delhi, Seoul and Moscow.
In 1954, Liu returned as a toddler from Hong Kong - where he was born - to Fuzhou, his parents' hometown, and experienced first-hand the Great Leap Forward as a primary school student.
In 1960, he left Fujian to return to Hong Kong. "My involvement with China spans the age of New China," he said.
Liu is keenly aware of "the power of photography".
In this digital age, when everyone can be a photographer, people may forget that photography offers "an interpretative point of view".
"You have to capture 'the decisive moment and the essence of humanity' when everything falls into a picture frame". An art critic of Newsweek magazine recently opined that photography in many ways is the easiest thing to do, therefore the hardest.
As a reporter for Time magazine, Liu traveled to Guangzhou in 1976 - the farthest he was allowed to go - and spent 10 days observing reactions of ordinary people mourning the death of Mao shortly before the Gang of Four was toppled. "I could feel this was the beginning of a big change," he recalled.
Liu said that Westerners "consistently underestimate" Chinese people's capacity to adapt because it is not so apparent for people who are not native Chinese to see that "pragmatism is in the DNA of the Chinese and it has been harnessed by thousands of years of poverty".
"The level of Chinese self-confidence and tolerance of other cultures will be commensurate with economic strength," he said.
His book, China 1949-2008, due out later this year, will be sprinkled with quotes from some 200 Chinese and foreign personalities which he calls "the voices of observers".
"I've done well by professional standards," he said. "But at heart I'm still a reporter and love to see how the media can play a more positive role, be it a book, a blog, an article, a speech or a commentary - or a picture."