The government vowed Tuesday to increase its efforts to combat software piracy in a bid to ensure the development of the industry.
"Infringement has been the main culprit in slowing down the healthy development of the software industry," Wang Ziqiang, director-general of copyright bureau under the National Copyright Administration (NCA), said Tuesday at a press conference in Beijing.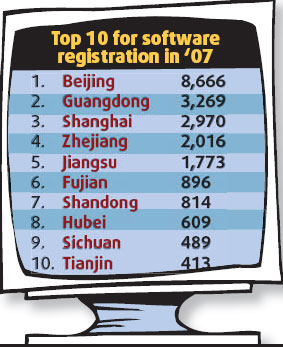 He cited an American study that indicated that sales of domestically developed software would increase by $3.79 billion if the rate of software infringement in China was cut by just 10 percent.
Duan Guijian, director of the Copyright Protection Center of China (CPCC), said most software companies in China had now realized the need to apply for copyrights for their software.
Last year a record 25,666 applications were made, up 16 percent on the previous year.
Beijing topped the list with the registration of 8,666 applications last year, accounting for 35 percent of the total, the center said.
Duan said the center was working hard to shorten the copyright application process, which had been the subject of regular complaints.
"We have already shortened the process from 60 days to 30, but 15 days is now our goal," Wang said.
He said the government had strengthened its policies on infringement not only for the benefit of domestic software companies, but also to send a positive signal for further international cooperation on copyright disputes.
The government has engaged in a number of cooperative campaigns with international partners on copyright protection as part of China's commitments to the World Trade Organization.