BEIJING - A survey has been initiated by the State Administration for Industry and Commerce (SAIC) in late December on foreign investment in China's real estate sector, sparking fears of new curbs to bring down the soaring housing prices.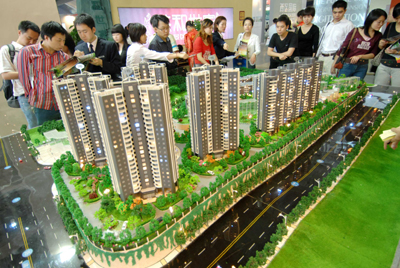 Local residents view a building model at a real estate fair in Changshang, Central China's Hunan Province, October 27, 2007. [File photo] 
An urgent notice was released by the SAIC's Registration of Foreign Invested Enterprises on its official web site to local branches, but no details were revealed.
Citing a well-informed source, the Shanghai Security News reported Monday that the survey was planned last November after the Ministry of Construction opened another research meeting on the implementation of existing policies restricting foreign investment into real estate market.
But sources with the SAIC's Shanghai and Beijing branches maintained that the move was to collect and compile national statistics for internal management.
The Registration of Foreign Invested Enterprises also declined to disclose the purpose and development of the survey.
As a package of policies have been mapped out last year to prevent the influx of foreign capital into the real estate market including a directive on the attraction foreign investment in 2007 to strengthen the approval and supervision of direct foreign investment in real estate property.
In July 2006, China took a major stride to regulate its real estate market and stave off speculative investment by raising the ratio of registered capital in property developers' overall investment and restrictions on residential property purchases by foreign institutions and individuals,
Only foreign institutions establishing branches or representative offices in China and individuals working or studying in China for more than one year can purchase apartments for their own use.