She asks people to forget her - but it is very unlikely that anyone will any time soon.
As the country's only woman vice-premier, dubbed internationally "China's Iron Lady" for her tenacity in international trade talks, Wu Yi Thursday bid another public farewell before she leaves office in March.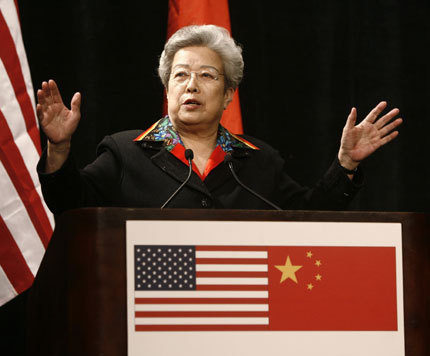 Chinese Vice Premier Wu Yi speaks during her only major policy speech in Washington, at a dinner hosted by the US-China Business Council and the US Chamber of Commerce, May 24, 2007. [Agencies]
Dressed in light blue and looking as commanding as ever, the 69-year-old was as optimistic, frank and humorous - as usual.
"This is the last time I'll speak to all of you, and would like to take this opportunity to thank you for supporting my work all along," Wu told a work conference on quality control, a sector that she has been overseeing since 2001.
"We've been walking together on an uneven road and enduring numerous hardships," she told more than 200 quality officials from across the country. "All of you have been working hard and I'm very satisfied."
In response she received thunderous applause and was later presented flowers and a photo album recording her quality control efforts in the past few years.
However, this is not the first time the Iron Lady has bid goodbye.
In late November, when she attended a government appreciation dinner held by the American Chamber of Commerce in China, Wu expressed her wish to leave her job - the first time she mentioned it in public.
In mid-December, when the third round of the Sino-US Strategic Economic Dialogue concluded in Beijing, US Treasury Secretary Henry Paulson bid farewell, commending Wu as "an outstanding representative of the Chinese people".
Later that month, Wu made her intentions even clearer while attending a business conference in Beijing.
"I will retire after the NPC (the top legislature) and CPPCC (the top advisory body) meetings conclude next year."
"In my resignation to the central government, I have made it clear that I will not take any post after retirement or serve in any organization.
"I hope you can forget about me completely after my retirement," she said.
Wu has thrice been ranked among the top three on the World 100 Women list by Forbes magazine.
Her negotiation skills and charming personality have won her fame from both home and abroad.
Wu has been responsible for talks with the United States on contentious trade issues and was called on by the central government to manage a number of crises, from SARS in 2003 to last year's scares over product safety.
Her sharp-witted remarks during negotiations on China's entry to the World Trade Organization and her determination during the SARS outbreak have left an unforgettable impression.
The Associated Press has reported that for the past decade, when Chinese leaders had a mission of national importance, they gave it to Wu.
She had final words of advice to the quality control officials Thursday: "Quality problems will last for a long time I'll be looking forward to hearing more good news from you (even after my retirement)."
As thousands of netizens said after reading reports on Wu's retirement, people will not forget her for a long time.