Premier Wen Jiabao and his visiting Japanese counterpart Yasuo Fukuda reached new consensus on the East China Sea issue on Friday, pledging to resolve it at an early date.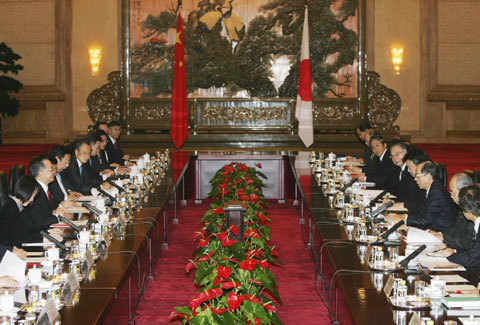 Japanese Prime Minister Yasuo Fukuda (3rd R) meets Chinese Premier Wen Jiabao (2nd L) in Beijing's Great Hall of the People December 28, 2007. [Agencies]
Both said they are willing to develop and turn the East China Sea into "one of peace, cooperation and friendship", and adhere to the common grounds already achieved by the leaders of the two countries in April.
The two sides have elevated the consultation to the vice-ministerial level and will continue to make efforts to seek workable solutions.
Both Wen and Fukuda said talks on the East China Sea issue had made positive progress.
"We feel each other's sincerity and determination," Wen said during a joint press conference after a two-and-a-half-hour meeting with Fukuda.
"In the long history of our relations, there has never been a time when Japan and China has had more influence or responsibilities in Asia and the world," Fukuda said at a joint news conference with Chinese Premier Wen Jiabao. "We face a big opportunity going forward."
"There have indeed been various problems in the relationship between Japan and China. But it is time for us to overcome these problems and push forward the development of our relationship," he said.
Wen also praised improved relations between the two countries.
"Prime Minister Fukuda said the spring has come in our relations and after 2 1/2 hours of talks, I truly feel that the spring of China-Japan relations has indeed arrived," Wen said.
Fukuda started his four-day China visit on Thursday in a bid to take bilateral ties to a new high.
Wen and Fukuda witnessed the signing of three agreements on youth exchange programs, climate change and new energy.
Fukuda said Japan is ready to work with China on environmental protection and help train up to 10,000 Chinese scientists in advanced energy conservation techniques.
Taiwan question
Concerning the Taiwan question, Fukuda reiterated Japan's one-China policy, saying Japan does not support Taiwan authorities' attempts to seek UN membership through "referendum" and any move that may change the status quo of cross-Straits relations.
He stressed that Japan will give no support to the claims of "one China, one Taiwan" or "Taiwan independence".
"We know that the Taiwan issue concerns China's fundamental interests and we have been keeping our promises," Fukuda said.
He noted that there had been no change to Japan's stance on the Taiwan question as stated in the Japan-China Joint Statement.
Wen applauded the Japanese position, saying dealing correctly with history and the Taiwan question is the political foundation for improving bilateral relations.
On Japan's war past, Fukuda said Japan would "very earnestly" reflect on the "agonizing part of history" and continue to follow the path of peaceful development so as to establish "forward-looking China-Japan relations".
Fukuda also expressed hope for working with China to create a better future for the Asian region and the world at large.
"Japan and China have to shoulder the Asian and world responsibility," he said.
The two nations have a historic opportunity to improve relations for the sake of peace, and have the obligation for future generations.
Fukuda and Wen agreed to take significant steps forward in bilateral ties next year, the 30th anniversary of the bilateral peace and friendship treaty and the year for the Beijing Olympic Games.
Fukuda wished the Olympics a great success.
On a light note, Wen accepted Fukuda's invitation to play baseball together. Wen played baseball with Ritsumeikan University students when he visited Kyoto in April as part of his "ice-thawing" trip to Japan, six months after then-Japanese prime minister Shinzo Abe's "ice-breaking" visit to Beijing.
Fukuda also met President Hu Jintao and top legislator Wu Bangguo on Friday.
Fukuda will drive to Tianjin on Saturday and then fly to Shandong to visit the temple and cemetery of Confucius.