BEIJING -- Chinese President Hu Jintao met here on Friday with visiting Japanese Prime Minister Yasuo Fukuda, calling for more efforts to build bilateral strategic and mutually beneficial ties.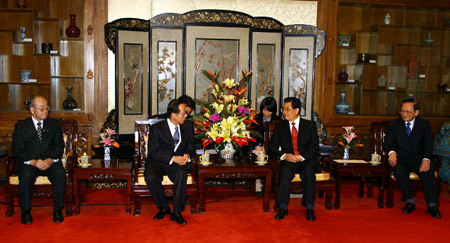 Chinese President Hu Jintao (2nd R) meets with Japanese Prime Minister Yasuo Fukuda (2nd L) at the Diaoyutai State Guesthouse in Beijing, capital of China, on Dec. 28, 2007. Yasuo Fukuda arrived here on Dec. 27 for a four-day official visit to China. [Xinhua]
"The development of long-term, stable and good neighborly relations between China and Japan are the common anticipations of the two peoples, as well as the duty of the two nations' political leaders," Hu said.
China is ready to work with Japan to take high-level visits and the 30th anniversary of the peace and friendship treaty as opportunities to advance bilateral relations, He said.
Hu stressed the need to abide by the three political documents on bilateral ties, including the Sino-Japanese Joint Statement, the Peace and Friendship Treaty and the Sino-Japanese Joint Declaration, and follow the spirit of "taking history as a mirror and looking forward to the future".
He said both sides shall do something concrete to enhance dialogue and consultation, strengthen mutual understanding and trust, and appropriately handle major sensitive matters in bilateral ties.
Hu commended the contributions of Fukuda and his father, late former Japanese Prime Minister Takeo Fukuda, in building friendship between the two nations.
"You and your father are old friends that the Chinese people respect and are familiar with," Hu said in an opening remark.
The friendship and peace treaty signed in 1978 laid an important political and legal foundation for the development of bilateral relations, Hu said.
Hu said he was particularly moved by Fukuda's decision to visit China for the 25th anniversary of the treaty in 2003, when Sino-Japanese relations were stuck at a difficult time.
Fukuda said he has held comprehensive and in-depth discussions with the Chinese side during his visit so far, which increased understanding and facilitated cooperation. He also expressed wishes to work with China to achieve new results in the bilateral relations.
Fukuda, who is on a four-day visit to China, held a talk with Chinese Premier on various issues. He also delivered a speech which was broadcast live on TV in Beijing University and met with China's top legislator Wu Bangguo.